Koreatown Oddity - Little Dominiques Nosebleed
Written by Chi Chi Thalken on June 23, 2020
Koreatown Oddity is an artist from Los Angeles that has been putting out music since the early 2010s. Earlier in his career, he might have been seen as a bit of a novelty due to the fact that he would perform live while wearing a wolf mask. As he persisted, though, the music made more of a case for itself as hip hop of substance, and the novelty took a back seat. Now, he releases his most personal project to date, Little Dominiques Nosebleed.
I don't often reference the album covers when reviewing an album, but in this case it feels necessary, because the album is white with a picture of Koreatown Oddity, with the bold printed words above, "When I was a kid, I was in two serious car accidents that would change the rest of my life." This sets the stage for what you're going to get with the album, which is his most personal and autobiographical effort to date. The entire album is self-produced, and with a couple of exceptions, the project feels like this sketch book of musical ideas and anecdotes about KO's childhood, including the tales of both of these car accidents, the first of which leads to the persistent nosebleeds referenced in the title off the album. Musically, there's this stop-start random groove style that feels a little Madlib-esque, which is never a bad thing. You do get a couple of songs with hooks that do stick in your head, including the lone explicitly political song, "Weed in L.A.," which really drives home the points about the legalization of pot that we need to be mindful of who actually gets to sell it and profit from it, and also how many are still locked up because of it. Mostly, though, this is an album about a young Black kid navigating life in Koreatown where he grew up, forming his worldview, and how these two tragic moments shaped that outlook on life. It should also be mentioned that we get a plethora of guest artists on the album, including Baby Rose, C.S. Armstrong, Sudan Archives, Jimetta Rose, Taz Arnold, Awhlee, Trenttruce, Edule, Emmanuel Coto, Swift, Skyler Duf, Fatlip, Giovanni Marks, Nita Darling, Corrine Atkinson, Lewis, Qur'an Shaheed, and Kintaro. For all of these voices, though, the album never feels cluttered, and you never lose the narrative. Everyone plays their part well, adds just the right flavor to KO's story, and then the album just keeps moving.
If you've never listened to Koreatown Oddity before, Little Dominiques Nosebleed is an excellent place to start. That's because you'll get to know him on a very personal level, with a great deep dive into his childhood and how it shaped him become the man he is today, all set to some inventive beats that will keep you on your toes.
| | |
| --- | --- |
| Title: | Koreatown Oddity - Little Dominiques Nosebleed |
| Label: | Stones Throw |
| Year: | 2020 |
| Rating: | 8/10 |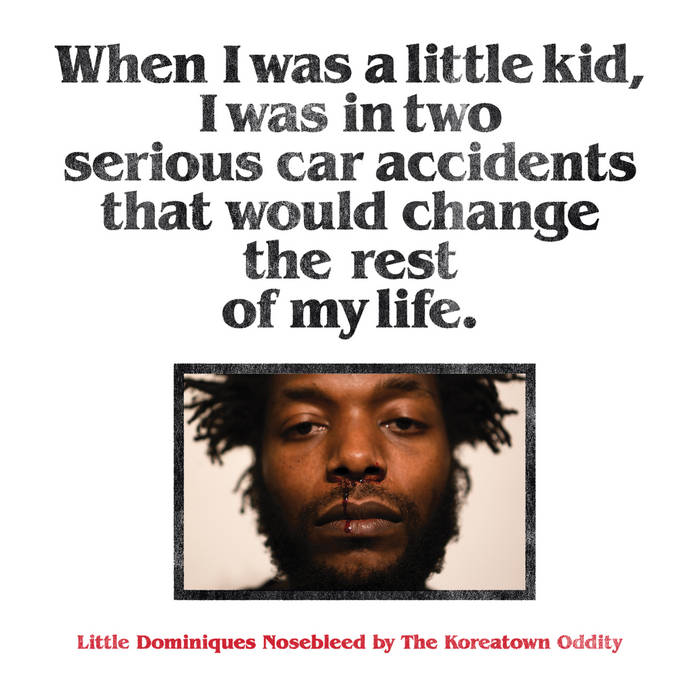 Previous: Maria Isa + YMMU - Amor Universal
Next: Gabriel Teodros - What We Leave Behind