Gabriel Teodros - What We Leave Behind
Written by Chi Chi Thalken on June 24, 2020
Before the pandemic, Seattle emcee Gabriel Teodros was planning a show on June 24, 2020 to celebrate the 20th anniversary of his first solo show. After the pandemic hit and it became obvious that the show was a no go, Teodros was left to figure out what else he could do in this situation. Like a lot of other artists have done and continue to do, he went through the vaults and started combing through his unreleased material. Much of it was ready to go, but Teodros also felt the need to record a couple of new songs as well just to get some things off his chest about our current moment. The result is his latest release, What We Leave Behind.
A lot of the time, when you're talking about a B-sides and rarities compilation, it's meant for the hardcore fans who want to hear everything, even if it's just the rough draft of a song. When it comes to What We Leave Behind, you might not realize that this isn't an "official" album if no one told you. I mean, really the only tell is the inclusion of the last track, a live performance of "East Africa," recorded live at the Langston Hughes Center back in 2007. Even then, the quality is so high that it feels more like a bonus track at the end of an album. This is all to say that Teodros is a veteran emcee with a ton of quality releases under his belt. He developed a following with laid back conversational flow that spoke to his experience growing up the son of an Ethiopian immigrant and just as a guy trying to do right and make his way in this world as an independent musician, while also speaking the political and social climate of his day. Over the course of this collection, we get some great beats from the likes of Crispy, Third Eye Bling, SoulChef, Wonderkut, AirMe, Phreewil, EarDr.UmztheMetroGnome, Teal Douville, Martin, DJ B-Girl, Uncle Greg, and Budo. All the tracks are great, but special attention should be paid to DJ B-Girl for her clever flips to put the production in conversation with the lyrics on "Listening To Bill Withers." There are also some excellent guest appearances along the way, including Aisha Fukushima, SETI X, Kasi & Castro, Prometheus Brown, Khingz, Jennifer Johns, Amos Miller, and the New Seattle Orchestra. Everyone gets a chance to shine and add their particular flavor, but the standout to me are the political rhymes from non-binary Vancouver emcee Kimmortal, who alongside Teodros does a great job on "Solidarity" building the case for different marginalized groups to build coalition and learn to have each other's backs. It should also be mentioned that while the "live"-ness of "East Africa" might make it sound like a bonus track, it's an incredible powerful song where Teodros goes deep into what his heritage means to him, and having the New Seattle Orchestra with him gives the song a new level of energy to it.
What We Leave Behind looks like a filler release on paper, but that's far from the case in reality. Gabriel Teodros has been making quality hip hop for twenty-plus years, so it should come as no surprise that when he went back through the vaults, he had enough to put together an album that would rival most artists carefully crafted and planned projects.
| | |
| --- | --- |
| Title: | Gabriel Teodros - What We Leave Behind |
| Label: | S/R |
| Year: | 2020 |
| Rating: | 8/10 |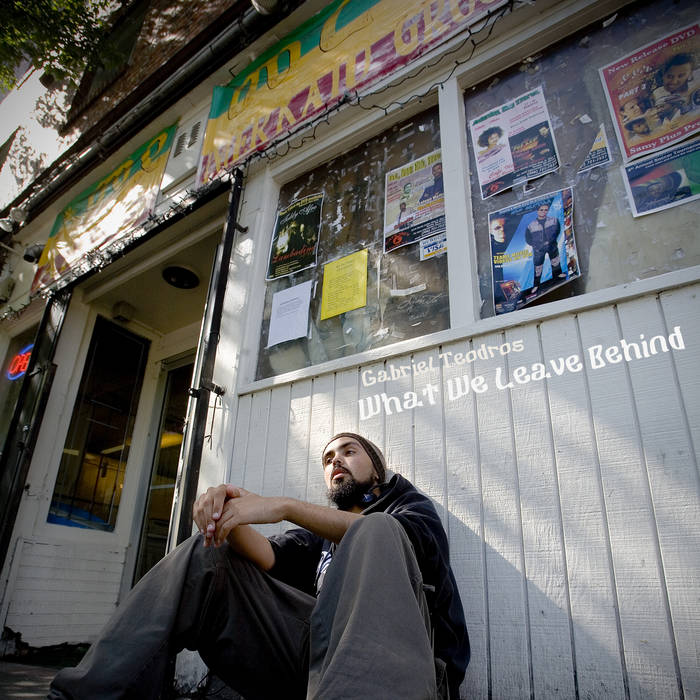 Previous: Koreatown Oddity - Little Dominiques Nosebleed
Next: Handbook - Rewind