Kognitif - SOUL FOOD II
Written by Chi Chi Thalken on September 25, 2019
Kognitif is a producer from Poitiers, France who has been releasing music for about seven years. Three years ago, he released an instrumental project by the name of SOUL FOOD. Now he comes back with the sequel, simply titled SOUL FOOD II.
If you just listened to the opening track of SOUL FOOD II, "The Soul," you might think you have an idea of what the album is about, with it's chilled out downtempo vibes. You might really expect this if you've listened to Kognitif's previous works as well, which were very much informed by trip hop. However, once you get past that intro, things take a decidedly funkier turn. This album is all about the breakbeats, funky drums, great soul samples, and just all that old school goodness that will get you dancing. This is the soundtrack to sunny summer block party. Kognitif is clearly a crate digger, and he found some gold to flip this time through, because everything is just so much fun to listen to. He also does a great job of chopping and looping samples at just the right point to transform them into something new. Kognitif also put this project together with a deejay's ear, because the whole thing flows and transitions incredibly smoothly, with each track masterfully passing the baton to the next. Sometimes you don't need to reinvent the wheel. Sometimes you just want to get back to your roots, turn up the stereo, invite all your friends over, and dance, sweat, and have a good time. Kognitif has given us the perfect soundtrack for that party. If SOUL FOODS II doesn't get your feet moving, I don't know what will.
Sometimes you need a lot of time and words to process a new project. Other times, you get someone like Kognitif giving you a straight ahead, funky, old school hip hop party like he does with SOUL FOOD II, and all you need to know is what time the party is starting, and do I need to bring anything?
| | |
| --- | --- |
| Title: | Kognitif - Soul Food II |
| Label: | S/R |
| Year: | 2019 |
| Rating: | 8/10 |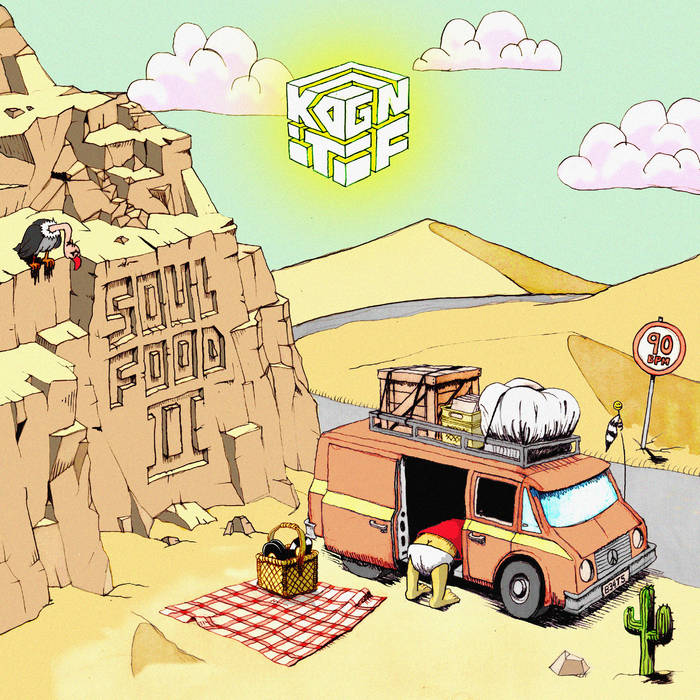 Previous: Ruby Yacht - 37 Gems
Next: D-FAZ - OneNationUnderDog