K1NG ELJAY & INKLINE - Kintsugi
Written by Chi Chi Thalken on October 6, 2020
K1NG ELJAY is an emcee/producer from Birmingham that has been going strong for about six years, with his most recent full-length, K1NG., coming out about two years ago. INKLINE is a emcee/producer formerly from Birmingham, now based in Denver, best known for his work in Nerves Baddington. Their last EP, Pretty Penny, also came out about two years ago. Now these two have come together, with Inkline on the beats and ELJAY on the rhymes, to release a joint EP, Kintsugi.
The term "kintsugi" is a Japanese word that refers to the "art of repairing broken pottery by mending the areas of breakage with lacquer dusted or mixed with powdered gold, silver, or platinum. As a philosophy, it treats breakage and repair as part of the history of an object, rather than something to disguise." This is another way to say that aside from bonding over dope beats and rhymes, K1NG ELJAY and Inkline are bonding over their ability to overcome some struggles, whether they be mental health issues, addiction, or whatnot. It then becomes important to not hide those scars, but to be proud that they have made it through these struggles, and by talking about it, we can hopefully start more conversations and make people realize that these shouldn't be stigmatized issues. So that's what this EP is about in the abstract sense. In the more tangible sense, this EP is about dope beats and rhymes. Even though K1NG ELJAY is a talented producer in his own right, sometimes it can be helpful for an artist to work with another producer, just to get pushed out of your own comfort zone and do something you wouldn't have done on your own. That's exactly what's happening with Kintsugi. Inkline's beats for this project are just slamming, with tons of energy and just a touch of aggression to the feeling that forces ELJAY to not sit back in the pocket and get introspective, but to sit on top of the beat and get some things off of his chest that he had maybe been holding onto. This isn't to say there isn't any room for vulnerability on this EP – there certainly is. Tracks like "Anxiety" are transparent in their subject matter. The only difference here is that instead of maybe building up to subject matter like this, we're driving full speed straight ahead into what it's like to deal with anxiety and not treating it with any shame. ELJAY and Inkline get a lot done in just seven tracks here, with some really inventive beats that will not only make you want to turn your stereo all the way up, but will also reward those that listen closely with all sorts of subtle nuances to the way he develops his tracks that keep rewarding with repeat listens. They also rep Birmingham to the end, culminating in a killer posse cut, "Contradiction," where Erthling., OZU, ChriStyle, and D Gut all hop on the mic and try to outdo each other, leaving all of us as listeners as the real winners.
Kintsugi might seem unassuming on paper, but K1NG ELJAY and Inkline pack a ton of content into this EP. It takes you on an emotional journey, you get plenty of smart and clever lyricism, you get beats that bang for days, and you get a posse cut that will have you yelling "Oh shit!" for four minutes straight.
| | |
| --- | --- |
| Title: | K1NG ELJAY & Inkline - Kintsugi |
| Label: | S/R |
| Year: | 2020 |
| Rating: | 9/10 |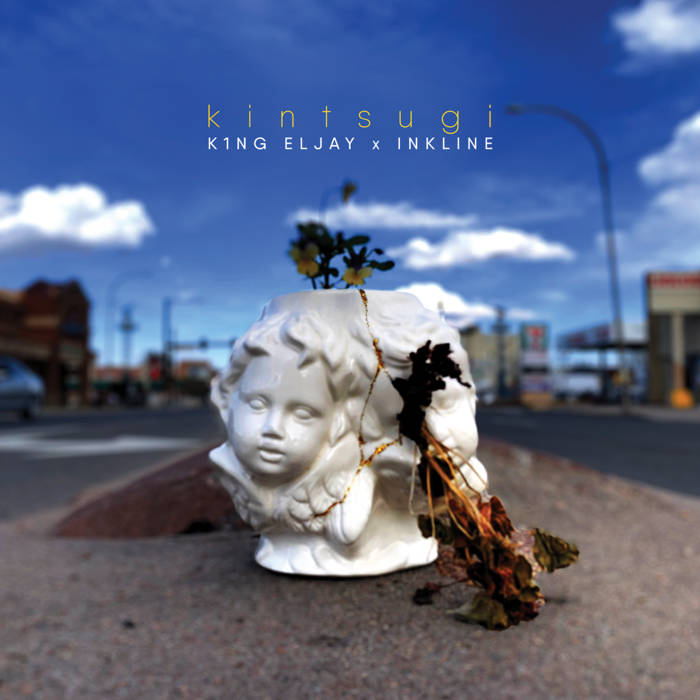 Previous: Vapor Eyes - In Pursuit of Magic
Next: Buscrates - Blasting Off