Cee Knowledge - The Calidelphian
Written by Chi Chi Thalken on February 8, 2021
Cee Knowledge is an artist now based in Fresno, but most people probably know him under the moniker Doodlebug, when he was one third of the group Digable Planets. He's been doing the solo thing for a while, and in recent years he's been dropping some singles and mixtapes and side projects. Now it's time for a proper full-length album, which comes to us in the form of The Calidelphian.
The title of the album is a reference to where Knowledge grew up (Philadelphia), and where he currently resides (California). As you might additionally infer, this album is in large part about an older artist reflecting on the past but also making the case that he's still relevant. With production from Meeco, Mos Beats, Nimzo, Nex Millen, Jorge Dubman, and Marchitect, they come together to create a soundscape that finds a balance between the gritty East Coast and laid back West Coast styles of boom bap. The tracks mostly fall in these midtempo pockets, where Knowledge can hop on and just sit back in the pocket and talk his shit. A lot of the times, when he gets to the real shit talking side of the album, the Philly comes out of him and he gets a little blue with it, but it always comes across as "East Coast guy busting your chops." Where the album has it's special moments, though, is when you break through the bravado and get these moments of reflection and tenderness in his lyrics. It might be just as simple as when he rhymes about how he trusts the younger generation coming up in hip hop to not only hold the culture down but to innovate as well, or when he talks about the family and community that have had his back over the years. It's those moments that give you the substance you need to make this more than just a fun album from a veteran artist.
The Calidelphian is a solid album from a veteran artist that hits all the major points you'd expect from Cee Knowledge. It's full of head-nodding beats, clever rhymes, and heart.
| | |
| --- | --- |
| Title: | Cee Knowledge - The Calidelphian |
| Label: | S/R |
| Year: | 2021 |
| Rating: | 8/10 |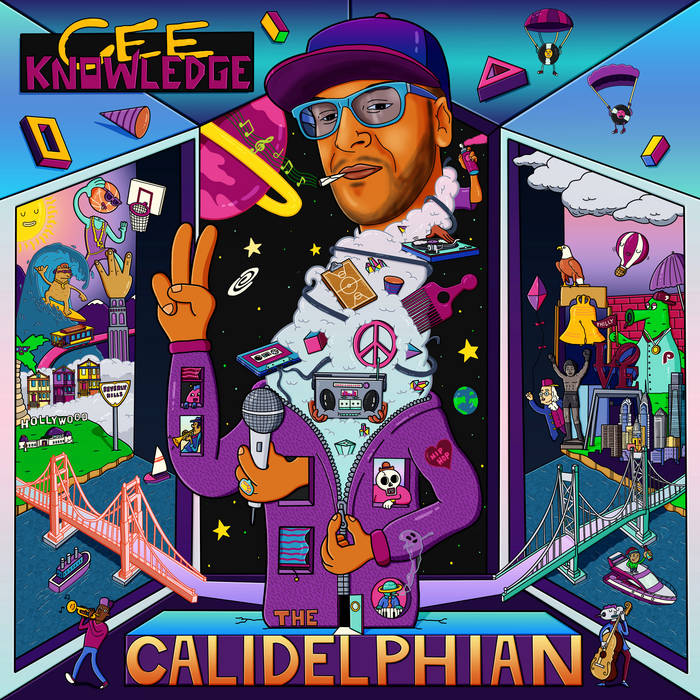 Previous: Serengeti - What a Day
Next: Juicy the Emissary, Boombaptist, & Elaquent - Komfort Food