J-Live - At the Date of This Writing (Vol. 2)
Written by Chi Chi Thalken on November 5, 2019
Back in December of 2016, the New York triple threat known as J-Live dropped the first of what was supposed to be a series of self-produced EPs called At the Date of This Writing (Vol. 1). Well, life doesn't always work out like we plan, and since that time we've only gotten a random self-produced EP in October of 2018 called Lose No Time. Now, after all this time, things have finally lined themselves up for J-Live, and we finally get At the Date of This Writing (Vol. 2).
In terms of the music industry, things move quickly these days. So while more devoted hip hop fans will know that J-Live has been dope since the mid-'90s, in this era, the four years since his last album, the brilliant How Much is Water?, is a lot of time and the musical landscap can change. When you're making classic, timeless hip hop like J-Live, though, you don't really need to worry about that. You just need to worry about taking the time and effort to make sure you're getting everything right for your own sound. That's what really hit me when I listened to At the Date of This Writing (Vol. 2) – just how much I missed the complete package that is J-Live, and how good, soulful hip hop like the kind that he makes never really sounds dated. When you're going through the tracks, you're not just getting beats that bump, you're getting songs that really develop and have a distinct flavor to them. J-Live certainly comes out of the soul-sampling boom bap '90s era of hip hop, but he manages to find all sorts of different ways to switch up tempos, rhythmic patterns, scratches, and flows so that the groove never gets stale. He also comes at you with some really thoughtful lyricism that gives you a really honest look at who is, whether it be the grumpy person that wants to be left alone for a minute on "By Myself," or the veteran emcee who's seen the shady side of the music industry in "Money and Power," or the introspective, soul-searching individual of "Can't Find the Words." There are also interludes across the project, but because J-Live is a veteran who really takes the time to do things right, they really flow well within the scope of the album and help connect the songs, while giving you additional food for thought along the way.
At the Date of This Writing (Vol. 2) might not be what J-Live had initially envisioned for the series, but now that it's here, I'll happily take it. This is high quality hip hop from a triple threat who knows how to have fun and rock the crowd, while also giving you some real substance to consider along the way.
| | |
| --- | --- |
| Title: | J-Live - At the Date of This Writing (Vol. 2) |
| Label: | Mortiet Music |
| Year: | 2019 |
| Rating: | 8/10 |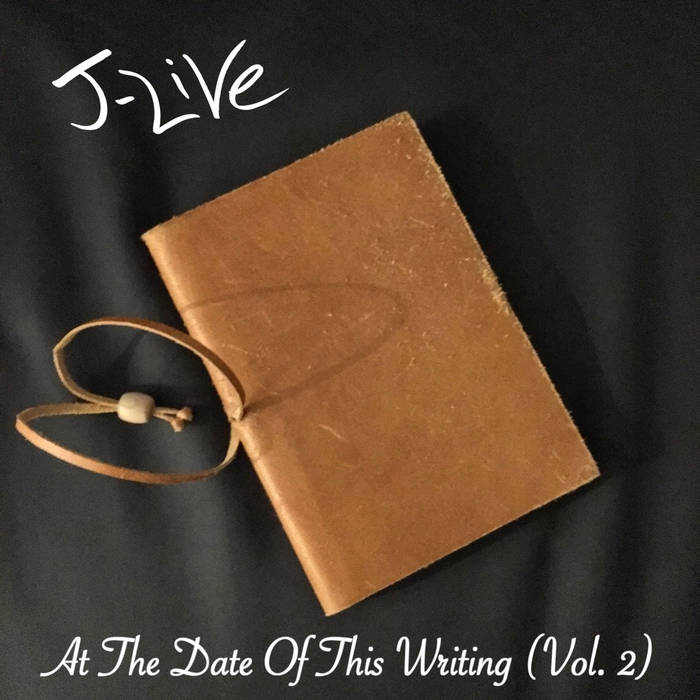 Previous: HARRIETT - Damani Nkosi & Ill Camille Are HARRIETT
Next: Brother Ali - Secrets & Escapes