Ill Embassy x Tonsofun x Wormwood - Reptile Brain EP
Written by Chi Chi Thalken on November 11, 2019
Back in April of 2018, Missoula emcees Wormwood and Tonsofun teamed up with the production team known as Ill Embassy to make an album called Speak Nay Scream. As it happens when you record an album, there were a lot of songs that were recorded but scrapped in the process. Now, about a year-and-a-half later, the artists let the rest of the material sit, and figured out which of those discarded songs stuck in their brains and might be worthy of rescuing. Ill Embassy then went back and reworked a few of them just to realize their full potential and threw in a couple of remixes as well. The result of this journey is now here with Reptile Brain.
In case you're not familiar with Speak Nay Scream, or the music of Ill Embassy, Tonsofun, or Wormwood in general, Reptile Brain serves as a good crash course on all three. This is some classic underground hip hop, with a sound that has roots in everyone from Def Jux to anticon. to Antipop Consortium, just to name a few. It walks that line in between weird and accessible, with Ill Embassy laying down some really dense experimental beats that go hard over the course of seven tracks. Wormwood and Tonsofun have great chemistry on the mic, and they have a lot of fun trading rhymes with each other. While the whole EP is entertaining, it especially ends strong, with the last three songs, "Plan One," "Long Way RMX," and "Speak Nay Scream RMX." Among other things, there are some great hooks here that I would have to imagine really get the crowds riled up and singing along when they perform these songs live, and the beats find that perfect balance between the weird and unexpected and some classic head nodding goodness that makes you want to turn the stereo up.
Sometimes the best thing you can do with some songs is just to sit with them, and to see if they stick with you. See if there's a musical idea or piece of lyricism that you just can't let go of. I'm happy that these Missoula artists did that, because we've got some nice bonus material on Reptile Brain.
| | |
| --- | --- |
| Title: | Ill Embassy x Tonsofun x Wormwood - Reptile Brain EP |
| Label: | S/R |
| Year: | 2019 |
| Rating: | 8/10 |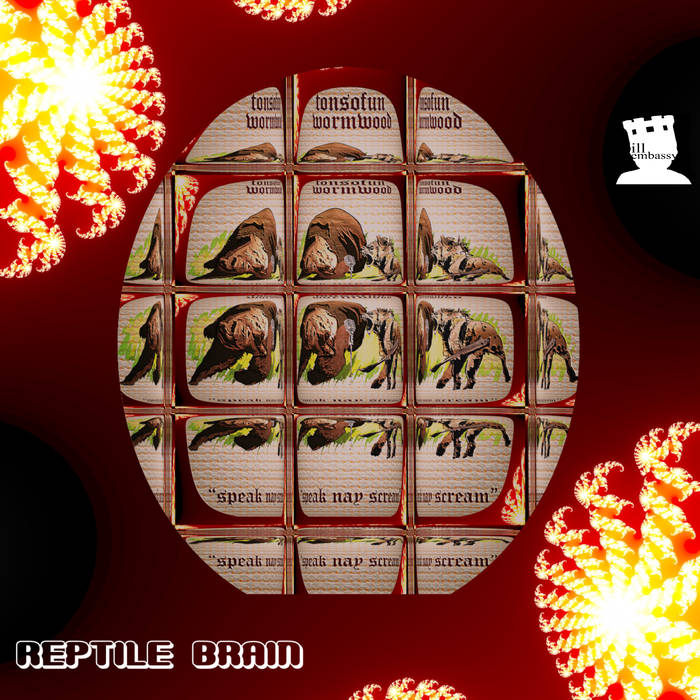 Previous: Mister - RELISH (The Completion)
Next: JSOUL - Neutronic Suite