Homage CVG - Mr. Biv
Written by Chi Chi Thalken on May 5, 2020
Homage CVG is a producer from Cincinnati and part of the Fort Ancient crew alongside Phonophage, Waldo From Cincinnati, Dren AD, and Samuel Steezmore. We last heard from him about a year ago, when he dropped the album Unfortunately. Now he comes back with a different type of project, an EP called Mr. Biv.
As you might have guessed from the title of this project, Mr. Biv is an EP inspired by the rainbow. That means there are seven songs, each titled after a color in the spectrum. Homage doesn't try to be too cute with and overplay the novelty of the concept, which might have been tempting to some producers. Instead, he opts for a more abstract interpretation of each color as he works his way through the rainbow, trying to craft something that sounds "red" or "blue." Whether or not the concept really works for you, what is going to guarantee the success of this EP is that you have seven really good instrumental hip hop tracks, any way you slice it. The songs are really well developed and varied across the EP, and Homage really finds some interesting and subtle ways challenge listeners and keep you on your toes, whether it be unusual sample sources, the way he manipulates and flips those samples, or the ways he might switch up rhythms or songs structures. The EP opens with "Red," which establishes a great funky midtempo groove that plays a really short horn loop against and a sample of a woman singing. This is what immediately jumps out as you're listening to it. However, there is some really interesting and essential work being done in the background with a staccato guitar riff and some additional percussion that complements the drums and really keeps the song moving. While all the tracks are interesting and enjoyable, none captured my attention as much as the closing "Violet," which features this really beautiful and haunting interplay between acoustic slide guitar and piano, with these processed vocal stabs that echo across the track, moved along with a subtle upright bass line and funky downtempo drums. It's got just the right balance between beauty and eeriness that keep my attention as the song plays out.
Homage CVG has been doing a lot of good work over the years, but Mr. Biv might be some of his best work yet. It's not an overpowering or wildly different project that will blow you away immediately when you press play, but it's smart, emotional, and really clever with the songwriting and flow of the EP, so much so that it will continue to grow on you with each listen.
| | |
| --- | --- |
| Title: | Homage CVG - Mr. Biv |
| Label: | Fort Ancient Records |
| Year: | 2020 |
| Rating: | 8/10 |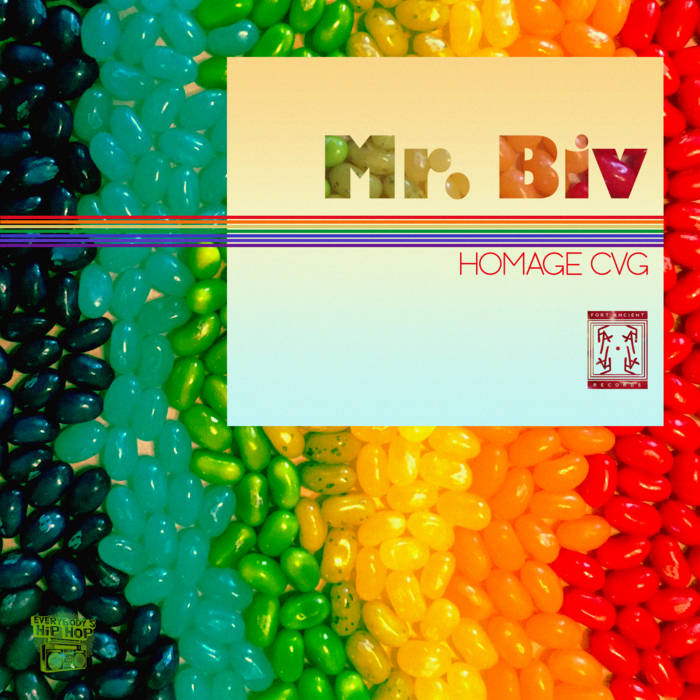 Previous: Sev Seveer - Agatite
Next: Myka 9 & Adriatic - Constellations