ECID - Post Euphoria Vol. 3
Written by Chi Chi Thalken on December 15, 2020
It's been a minute since we heard from ECID, but since he released How To Fake Your Own Death in 2017, capping off a really productive five year run, the Minneapolis-based artist picked things up and moved to Brooklyn. In September 2019, he teased us with a single, following up with another in January of this year. Now he's officially back and he's literally picking back up where he left off, giving us Post Euphoria Vol. 3.
In case you missed it, Post Euphoria Vol. 1 & 2 were EPs that came out in the mid-2010s, coming in between his albums Werewolf Hologram and Pheromone Heavy. These projects allowed him to stretch his legs and try out different things in between albums, and maybe just give some songs that didn't fit anywhere else a home. On Post Euphoria Vol. 3, which is supposedly the lead up to ECID's new full-length album coming next year, it more feels like he's getting his feet back underneath him after taking some time out of the spotlight. The good news is that everything you like about his previous work is here on Vol. 3 – the sarcastic sense of humor, the weed references, his keen observational eye as a lyricist, as well as his production that brings in bits of alternative rock, off-kilter funk, and weird electronic elements, all coming together for some hip hop that sounds distinctly like ECID. The real gem of the EP comes on "Destination Classified," due to the undeniable guitar riff and the excellent pairing of Googie with ECID on the mic, whose style and voice provides just the contrast that your ear was hungry for.
It's great to have ECID back, and Post Euphoria Vol. 3 hits all the right notes. I can't wait to see how he's going to build and expand upon this when that full-length album gets here.
| | |
| --- | --- |
| Title: | ECID - Post Euphoria Vol. 3 |
| Label: | Fill in the Breaks |
| Year: | 2020 |
| Rating: | 8/10 |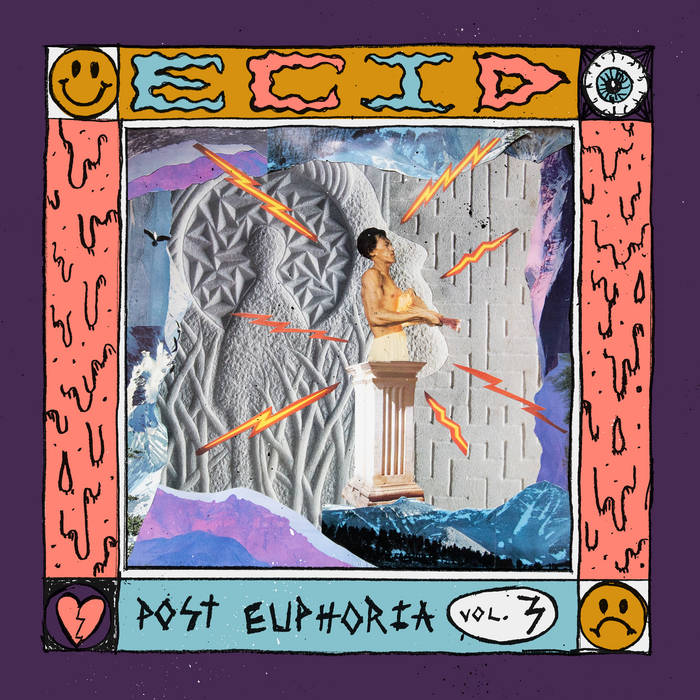 Previous: Daudi Abe - Emerald Street: A History of Hip Hop in Seattle
Next: Sarah Violette - Father Time Is Trying To Murder Me