Daudi Abe - Emerald Street: A History of Hip Hop in Seattle
Written by Chi Chi Thalken on December 14, 2020
Daudi Abe is professor of humanities at Seattle Central College who has previously written the book 6 'n the Morning: West Coast Hip-Hop Music 1987-1992 and the Transformation of Mainstream Culture. For his latest project, he doesn't look any further than the city he teaches in as he gives us Emerald Street: A History of Hip Hop in Seattle.
Chances are, if you're not from Seattle, you probably think of the city in terms of being a tech city, a coffee city, or the home of grunge. Of course, there's a lot more to the city than just that, and one aspect that often gets overlooked is that Seattle has a vibrant history of hip hop going back to the '80s. Fortunately, Abe took it upon himself to document that history, and as a result we can properly appreciate all the different contributions Seattle has made to the culture over the years. The book is laid out more or less chronologically, detailing how hip hop first began to take root in the 1980s, and how different clubs, record stores, and publications emerged as allies as kids began to take interest in deejaying, breaking, graffiti, and of course, rapping. Over the course of the book, Ade does a great job of balancing most people's main interest – the music – with acknowledging how everything from local publications to labels to clubs to blogs and beyond all play their part in contributing to the culture and giving it space to grow. As we work our way through this history, Ade outlines how groups like The Emerald Street Boys laid the foundation, Sir Mix-a-Lot took things over the top, but then how a major backlash happened in the '90s that set things back, only to see a re-emergence that in the '00s that has pushed through to today. Now, as a rap nerd, I can say that my biggest criticism of the book is that it's far too short, and that I could have used entire chapters devoted to important acts like Vitamin D, Jake One, Geologic, Shabazz Palaces, and THEESatisfaction. That said, I certainly understand that Abe is doing his best to make this book accessible and digestible for readers who are looking for more of an intro level history, and he writes this in a manner that is very easy to read and welcomes anyone with the slightest curiousity about Seattle hip hop to pull up a seat at the table and dig in.
Emerald Street does a great job of reminding all of us that hip hop didn't just happen in New York and Los Angeles – any major city in the U.S. has a story to tell and has a scene worth documenting. Thanks to Abe, Seattle now has physical document to remind everyone of all the great contributions to the culture, and more than likely will introduce you to some acts that you didn't know about. Hopefully this will inspire others to further fill in the gaps and write the history of other overlooked scenes.
| | |
| --- | --- |
| Title: | Daudi Abe - Emerald Street: A History of Hip Hop in Seattle |
| Label: | University of Washington Press |
| Year: | 2020 |
| Rating: | 9/10 |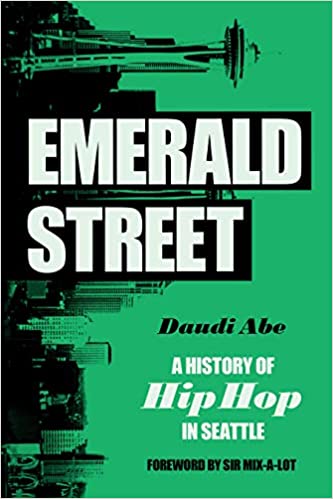 Previous: Sinitus Tempo - Dark Seas
Next: ECID - Post Euphoria Vol. 3