DJ Shadow - Our Pathetic Age
Written by Chi Chi Thalken on November 15, 2019
DJ Shadow is a pioneering producer, mostly known for his groundbreaking instrumental work in the '90s. Since that time, the Bay Area artist has released a variety of different projects. His most recent effort came in 2016, when he released The Mountain Will Fall, an album that was mostly instrumental, but contained the breakout single "Nobody Speak," with Run the Jewels. Now, he comes back with his most ambitious project in years, Our Pathetic Age.
Our Pathetic Age is a double album from DJ Shadow, with the first album an instrumental and the second one full of guest artists. The whole thing comes in at twenty six tracks, clocking in over ninety minutes. If that sounds like a lot, that's because it is, and is more often the case, this absolutely did not need to be a double album. It's great to have ambition, but sometimes you also neeed to know when to admit when something isnt's working. Both halves have their standout moments, but both sides also have plenty of filler as well. Much of the instrumental half drags as Shadow experiments with a sort of free jazz approach to some of his beats. I'm all for experimentation, but these aren't necessarily successful experiments that necessitates a full length album worth of these droning, slow-to-develop instrumental tracks. In fact, the album is so slow, by the time you get to "Rosie," the sampled vocal hook and funky drums are so refreshing, I honestly don't know how much I like the song on it's own, or if I just like it in contrast. We have a similar problem on the vocal side. There's a chance that you heard one of the lead singles, such as "Rocket Fuel" with De La Soul or "Kings & Queens" with Run the Jewels. Unfortunately, only a handful of the other songs live up to the expectation of those singles. Sure, "Conform" with Gift of Gab and Lateef the Truth Speaker gets a bunch of old friends rhyming and having fun, but the majority of the tracks are middling to forgettable, including some of the bigger names involved. There's an important lesson to all of this, which is that just because you can doesn't mean that you should. This project sounds impressive on paper, but in practice there's just a lot to wade through before you get to the good stuff.
Our Pathetic Age is disappointing, mostly because it didn't have to be this way. There's a solid DJ Shadow album hiding within all of the excess, but unfortunately no one was able to give this project the tough love it needed to be the best possible version of itself.
| | |
| --- | --- |
| Title: | DJ Shadow - Our Pathetic Age |
| Label: | Mass Appeal |
| Year: | 2019 |
| Rating: | 6/10 |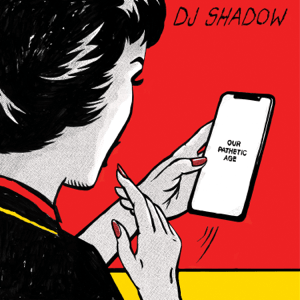 Previous: Mark Katz - Build: The Power of Hip Hop Diplomacy in a Divided World
Next: Sole & DJ Pain 1 - No God Nor Country