Sole & DJ Pain 1 - No God Nor Country
Written by Chi Chi Thalken on November 15, 2019
Sole has been making hip hop consistently for over two decades now. Five years ago, he first teamed up with Madison producer DJ Pain 1 to make an album called Death Drive, and then followed that up in 2016 with Nihilismo. Since that time, Sole has undergone some major life changes, including moving from Denver to Maine and starting a family. While his collaborative relationship with Pain 1 went on hold, his solo career didn't skip a beat, with two self-produced solo albums, with Let Them Eat Sand coming out last year and Destituent landing just this February. Now it's time to get back to work with Pain 1, as they now deliver their third album as a duo, No God Nor Country.
While Sole hasn't skipped a beat in recent years, his last two solo albums did mark a little bit a change of pace, where he turned his lyricism a bit more inwards. This meant that he was focusing more on what it meant to start a family and raise kids in this particular moment in history, and what it meant to move to Maine and live a purposeful life that lined up with his personal philosophies. Now that he's back with DJ Pain 1, he's back to the outward focused rhymes that you've become accustomed to over the years. This is readily apparent by the time you press play on the opening track, "F.T.L.," which of course stand for "Fuck the Law." From there, it's off to the races, with songs like "Extremist," "The World Ain't Yours," and "Wrong Side of the Law." DJ Pain 1 is bringing the trap-inspired beats that has seen him get placement with Young Buck, Ludacris, and Soulja Boy, just to name a few, which really gives Sole the push to go hard with his rhymes and to land the ends of his lines and verses and hooks with emphasis. The only minor part of the album that doesn't quite work for me was the inclusion of Decomposure on two tracks. It's nothing against Decomposure, but more about how the hooks he's laying down don't feel connected musically to the rest of the tracks. Lyrically, Sole has always used his platform for political and philosophical discussion, and he's never been one to back away from pushing his listeners on their belief systems. At an age and at a point in his life where he feels like he's living about as purposefully as he ever has according to his politics, he wants his listeners to think as along and hard as he has about what they believe and what they are doing to fix the broken economic, environmental, and political systems we're living in.
If you've spent time with the first two Sole & DJ Pain 1 albums, you won't be disappointed with No God Nor Country. They are going as hard as ever, with Pain bringing some hard beats that really bump, and Sole as fired up on the mic as he's ever been, not just railing against corrupt and unjust systems, but challenging anyone listening to get up off of their ass and do something about it.
| | |
| --- | --- |
| Title: | Sole & DJ Pain 1 - No God Nor Country |
| Label: | Black Box Tapes Trading Company |
| Year: | 2019 |
| Rating: | 8/10 |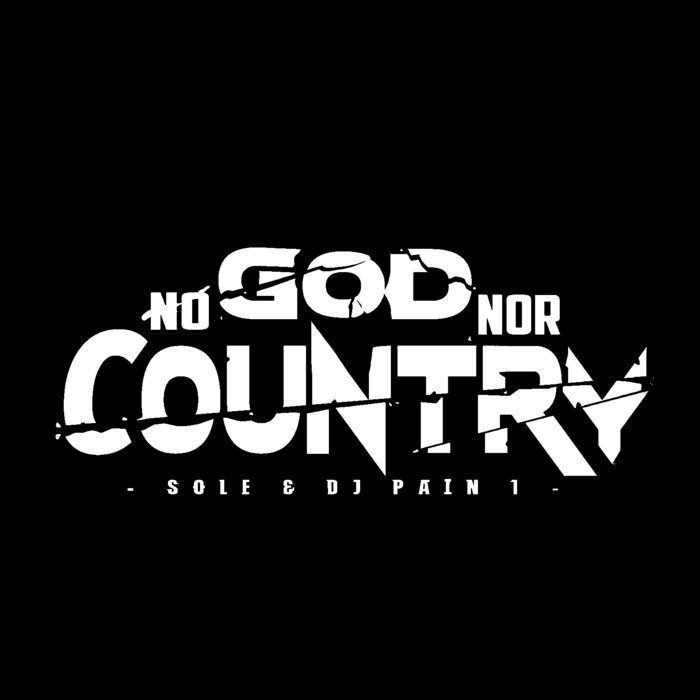 Previous: DJ Shadow - Our Pathetic Age
Next: C.Shreve the Professor - Grown