Dessa and the Minnesota Orchestra - Sound the Bells: Recorded Live at Orchestra Hall
Written by Chi Chi Thalken on November 8, 2019
Back in 2017, Doomtree emcee/vocalist Dessa performed with the Minnesota Orchestra, making it one of the most ambitious projects she pulled off in her career. That's saying something for a woman who came up as part of an underground rap crew in Minneapolis, and has seen not only that crew blow up, but has seen her solo career take off and take to all sorts of unexpected places in the past ten years as she criss-crossed her way across genres, performance spaces, and platforms. Well, that particular show in 2017 went so well, they decided to do it again in March 2019, but this time they recorded the performance, and now we can all enjoy this unique intersection of musicians and genres with Sound the Bells.
As a solo artist, Dessa has always lived in between genres. She can spit with the best of them, and she always leaves room on her albums to lay down a song "5 out of 6," but as the course of her solo career has progressed over the last ten years, she's managed to release everything from experimental electronic songs like "Warsaw,"" to torch songs like "Dixon's Girl," to the synth pop of "Call Off Your Ghosts" to the pure pop of "Boy Crazy." So when it came time to work with the Minnesota Orchestra, this wasn't a simple one-to-one conversion of taking a hip hop artist and adding strings to some boom bap beats. Fortunately, the creative community in the Twin Cities is second to none, and soon Dessa found herself connected with musician Andy Thompson, who has worked with everyone from Jeremy Messersmith to Taylor Swift, and he worked with her to write out the arrangements of her solo catalogue for orchestra. To round out the performance, Dessa brings along a few familiar faces for anyone that has been following her career and seen her perform live. Aby Wolf arranged the backing vocals, so that herself, Ashley Dubose, Cameron Kinghorn, and Matthew Santos could add the choir element that is always present in Dessa's material. Drummer/percussionist Joey Van Phillips helps bridge the gap between orchestra and pop/hip hop beats, and also lends a hand with a few percussion arrangements, and Andrew Foreman steps in on electric bass.
As I began to listen to Sound the Bells, one of the first things that hit me was just how incredible the recording sounds. Live recordings are always tricky, since there is always a tough balance in capturing the "live"-ness of it, while also trying to make it sound good, so you can hear evertyhing well in the mix. When you add in the complexity of recording an orchestra collaborating with a multi-genre artist like Dessa, you've got quite the challenge ahead of you, but this album really balances the job of letting you hear all the complex musical details along with capturing the excitement and energy of the live performance. And for that, we'll take the rare moment to single out and congratulate Recording Engineer Jay Pearlman on a job well done. The second thing that hit me was how smartly Dessa put together the set list for this performance. The album opens with the four-song sequence of "Jumprope," "Good Grief," "Boy Crazy," and "Velodrome." It's a beautiful sequence, but if you're familiar with her catalogue, you'll recognize these as slower, indie-pop leaning songs that are easier to conceptualize with orchestral arrangements. As you listen to them, they are beautiful, but you feel a certain amount of comfort – you've heard orchestral pop in this vein before. Dessa isn't much of one for playing it safe and keeping listeners in their comfort zones, though, and as it turns out, she was just getting warmed up, and there is much more up her sleeve. From the opening notes "5 Out of 6," you can feel the energy ramp up, and the arrangements get much more unexpected, and you're forced to listen much more attentively. Brass creates an ominous atmosphere, strings and woodwinds create the frantic energy, percussion keeps everything moving but still in the groove, and the vocalists add not only harmonies on the chorus, but some additional moving parts as they build the song to climax. From there, all bets are off, as we get everything from some of her oldest songs like "Dixon's Girl" and "The Chaconne," to new songs like "Grade School Games." There's something for everyone as you work your way through the double album that clocks in at about seventy minutes. In a lot of other situations, I'd be making the commentary that this is too long, and that it needs to be edited down to make a more coherent listening experience, but like everything else with this project, the rules get thrown out the window. There's too much good and interesting material, too many pertinent moments to trim this down. You need to capture these moments, like when Dessa performs "Fire Drills," and the orchestra quiets down as she gets to the line when she says, "I think a woman's worth/I think that she deserves a better line of work/than motherfucking vigilance," as the audience erupts in cheers and the orchestra builds back up as she emphasizes, "Don't give me vigilance." You also need the passionate thank you to the audience from Dessa on "Flyer is a Verb,"" in which her appreciation and desire for not just support from fans comes through, but her desire to build and create and collaborate as well.
You'll be hard pressed to find another artist quite like Dessa, and you'll be even harder pressed to find another album like Sound the Bells. Dessa already wrote an incredible catalogue of songs for herself, but thanks to working with Andy Thompson, the Minnesota Orchestra, and all of these other talented individuals, we get to rediscover everything in a new light. Also, it should be noted that not every orchestra in every major city is both willing and able to do a collaborative performance like this, and the work that the Minnesota Orchestra puts in is incredible, and shows that they truly understand and appreciate what they are a part of as well. This is an album that you can keep returning to and rediscovering and appreciating different moments each time through.
| | |
| --- | --- |
| Title: | Dessa and the Minnesota Orchestra - Sound the Bells: Recorded Live at Orchestra Hall |
| Label: | S/R |
| Year: | 2019 |
| Rating: | 9/10 |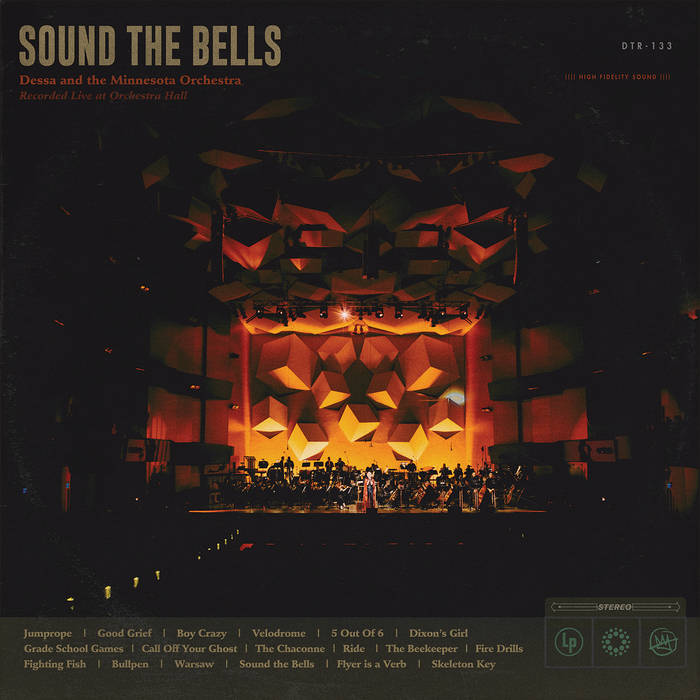 Previous: dubldragon. - Macroforms
Next: Mister - RELISH (The Completion)