Daringer - Baker's Dozen
Written by Chi Chi Thalken on June 17, 2019
Daringer is a producer from Buffalo that has been making beats since about '05, helping craft the sound of Westside Gunn & Conway, along with Griselda Records. For all the work he has done, he doesn't have that much solo material to his name. Well, that all changes now, since he was tapped to participate in Fat Beats' Baker's Dozen series of instrumental albums, the eleventh entry overall, and the first since Suff Daddy dropped his contribution last December.
One of the great things about this series is that each producer is given a structure for the album, but they then have free reign to bring in their own flavor to the proceedings. Daringer is one of the more interesting choices for the series, if only because he hasn't really worked as a solo instrumental artist, so the only ones really coming into this album with expectations are those hip hop nerds who know whose been producing those bangers for Westside Gunn and others. Well, Daringer gives a nice, big introduction with the first track, "Enterance,"" a midtempo track with this huge horn sample and a gritty, soulful quality that will make you feel like you're in a '70s crime movie. From there, he further fleshes out his sound, taking you through some sexy downtempo tracks with R&B flavor, to eerie, sparse boom bap that falls somewhere between Mobb Deep and early Nas, to jazz/psychedelic beats that will let your mind wander as the tracks bounce around your head. It's an incredibly solid collection, and it will certainly highlight why Daringer has been a respected producer for over a decade and helped put Buffalo hip hop on the map. The only real shortcoming to this release is that it plays a little more like a beat tape than a full-length album, which does make sense considering where Daringer is coming from. That said, this does make for a really strong beat tape, and you'll be bobbing your head along to it for sure.
Baker's Dozen has quickly become the most anticipated series of instrumental releases over the last couple of years thanks to the fine folks at Fat Beats. Each entry is something different and this one is no exception. Daringer has been working behind the scenes for a long time, and it's nice to see him get some shine here.
| | |
| --- | --- |
| Title: | Daringer - Baker's Dozen |
| Label: | Fat Beats |
| Year: | 2019 |
| Rating: | 8/10 |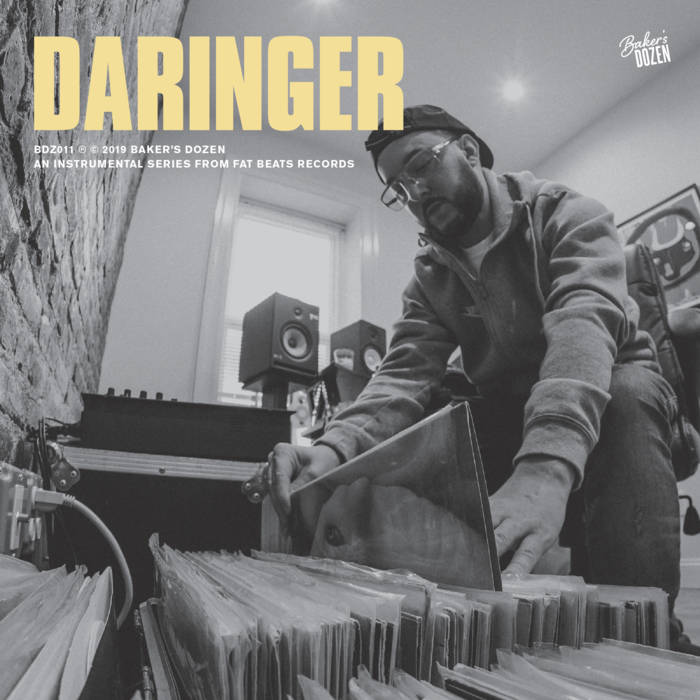 Previous: Evil Needle - Lost Tape
Next: Georgia Anne Muldrow - VWETO II