G-Pek, Brycon,Yelir, B.I. Lectric, The Architect, & Baghead - There's No More Room in Hell 5
Written by Chi Chi Thalken on November 1, 2019
Back in 2015, San Francisco producers G-Pek and Brycon put together a spooky instrumental mix for Halloween that they called There's No More Room In Hell. As the years rolled on, they kept revisiting this idea, inviting different friends along the way to pitch in with their eerie beats for the project. This year we return for a new volume with mostly familiar faces, but a few new ones as well.
Last year, we got appearances from Eons One, Yelir, and B.I. Lectric. This year, there's no Eons One, but we get new appearances from The Architect and Baghead. Each one gets their own track to shine, but in case you haven't listened to one of these projects before, you should know going into this thing that this isn't some sort of beat tape. Everyone has over six minutes to stretch out and really bring their scariest instrumental hip hop ideas to fruition. Some opt for a slightly more novel approach, with vocal samples from horror movies helping to frame the track, while others lean in a darker tone and let the minor, dissonant sounds set the tone. Either way, the whole thing fits together and flows well from start to finish, with a love of boom bap drums serving as a connecting point throughout. My personal favorite in the collection is Baghead's "BagHell", which has a really grand and cinematic quality to it, with a lot of different movements to it, and just a touch of Deadringer as well, which is always welcome over here.
There are a few Halloween traditions in hip hop, and There's No More Room In Hell is one of the ones to look forward to. Brycon and G-Pek always assemble some good talent, and they aren't too shabby themselves, either. Each year we get some quality spooky instrumental hip hop from the series, and this year is no exception.
| | |
| --- | --- |
| Title: | G-Pek, Brycon,Yelir, B.I. Lectric, The Architect, & Baghead - There's No More Room in Hell 5 |
| Label: | S/R |
| Year: | 2019 |
| Rating: | 8/10 |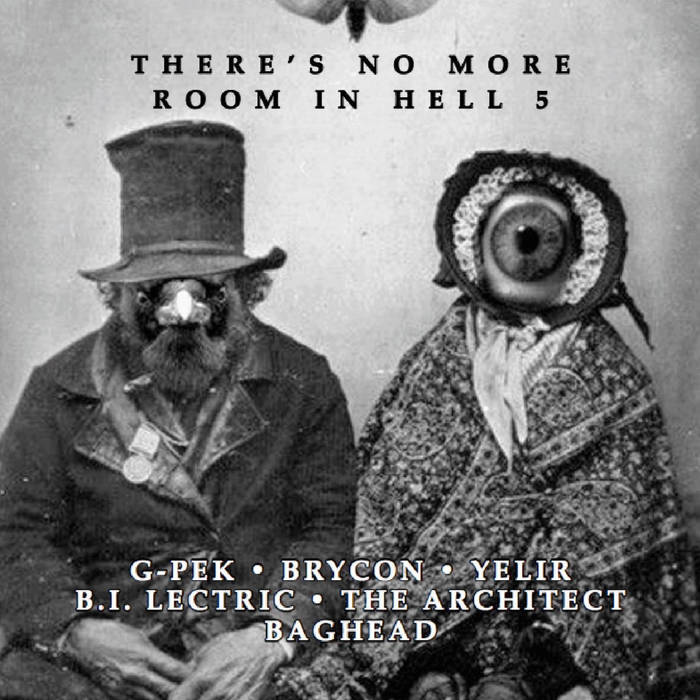 Previous: TRP.P - 2
Next: Apollo Brown - Sincerely, Detroit