Boca 45 - 45
Written by Chi Chi Thalken on July 12, 2019
Boca 45 is a producer from Bristol who has been putting out music for about fifteen years or so, mostly on indie labels such as Domino and Jalapeno, but he's also contributed to some major label projects as well. He's never had a bigger platform as he does now, though, as he makes his debut on Mass Appeal with his album simply titled 45.
One thing that will hit you right away about 45 is what a throwback Boca 45 is. What I mean by that is that this is a producer who is committed to digging through the crates and finding the funkiest breakbeats and turning them into something new. For the majority of the album, this means a little scratching along with some midtempo to uptempo boom bap, built off of soul, funk, R&B, boogaloo, and beyond. He's also joined by a variety of emcees, vocalists, and deejays, including Emskee, Louis Baker, Sergio Pizzorno, DJ Woody, Gee, and G Ealey over the course of the album. Boca meshes really well with the verbal dexterity of an emcee like Emskee and a classic soul singer like Louis Baker, and their tracks together just feel good and entertain like you're catching up with old friends. You might anticipate where things are going a little bit, but it doesn't really matter because you love it anyway. While most of this album just feels like classic hip hop and soul, Boca does leave some room for experimentation to give the album a little more depth. "White Blue & Red," featuring Sergio Pizzorno makes use of all sorts of all sorts of eerie sounds, old school drum machines, strings, and guitar, while Pizzorno's vocals are also put through all sorts of different effects, with the chorus sung with a combination of falsetto and normal range. The whole thing comes together to sound like if Odelay-era Beck leaning a little more in a Suicide direction. "Lonely," with Gee and G Ealey isn't quite as strange, with their soulful vocals making the song feel a bit more pop-friendly, but when you listen just a little closer, you start to notice that this minimal production is actually built out of some really creatively repurposed samples.
45 is an album from a veteran producer that delivers on all the right notes. It's fun and accessible, lets the guest artists shine, provides plenty of opportunities for dancing, and then leaves just enough room for a little weirdness as well. You can't ask for too much more than that.
| | |
| --- | --- |
| Title: | Boca 45 - 45 |
| Label: | Mass Appeal |
| Year: | 2019 |
| Rating: | 8/10 |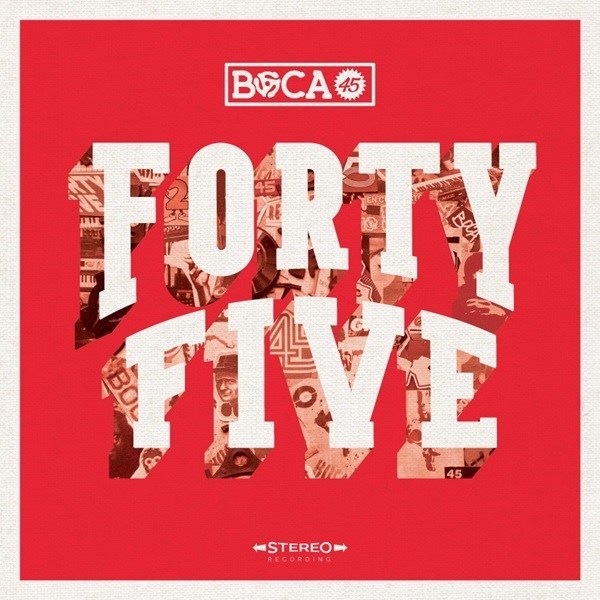 Previous: Dillon - The Tails of Lobsterdamus
Next: sumthin gunny - Dilate