Big $ilky -Big $ilky Vol. 2
Written by Chi Chi Thalken on July 3, 2020
It's technically only been three months since Psalm One and Angel Davanport officially said goodbye to the name Rapperchicks and reinvented themselves as the duo Big $ilky, releasing their first EP, Big $ilky Vol. 1. A lot has happened in between now and then, from the protests stemming from the murder of George Floyd by Minneapolis PD, to a string of women coming forward to accuse a number of men in the Twin Cities hip hop scene of sexual assault, physical battery, emotional abuse, and more. Well, Big $ilky have taken all of that emotion that's been coming to the surface and put into their music on Big $ilky Vol. 2.
If Vol. 1 was about letting go of the past and starting a new chapter, Vol. 2 is about addressing the here and now, and…well, let's just say that shit is fucked up. One look at the cover art from Chicago artist Jaime Garcia, though, and you know that Big $ilky means business and they are here to set everything straight. Also, don't try them. With beats from Bionik, Custom Made, Optiks, and Tek, this EP hits hard, with a strong drill and trap influence to the beats, meaning that it's all about the bass and the drums providing the framework for Psalm and Angel to get on the mic and let all of their anger, frustration, empathy, and love out on the mic. First they get warmed up and talk their shit and stake their ground on "Hurricane Jane." Just in case there was any doubt as to how these two felt about the police, especially in the wake of the murder of George Floyd, you've got "1800FVCK12" to clear things up for you. On "Green Light," they remind you that they've been here bringing that heat, and Psalm drops a reminder that she already had her falling out with Rhymesayers years ago. On "The Soft Block," they remind you that they get to define their own sexuality, and it's all on their terms, so you can deal with it. On "Look at God," we go in on the structural racism tied into capitalism that is at the root of all of the police brutality, and how white people have to get uncomfortable if we're all going to make a change. Then it's time for some self-care and sexy times on "Church," before we end on the hardest note of all, "Eat Your Veggies," which features a chorus that sums up the first half of 2020 pretty well: "They gone kill me if I say it/I'm gone kill me if I don't/Everybody ain't that fuckin woke/Just drink ya whiskey/Read a book and eat your veggies/And when a real bitch speaking/Can't nobody check me." Did I mention that these two are nice on the mic?
Psalm One and Angel Davanport have been through some extremely tough moments in their lives already, which is a big reason why people started to turn towards them when shit started to hit the fan in Minneapolis. One EP isn't going to fix everything, but Big $ilky Vol. 2 is a great place to start if you want to hear some women speak their truth about everything that's fucked up right now and get you focused and inspired to do some work.
| | |
| --- | --- |
| Title: | Big $ilky - Big $ilky Vol. 2 |
| Label: | S/R |
| Year: | 2020 |
| Rating: | 9/10 |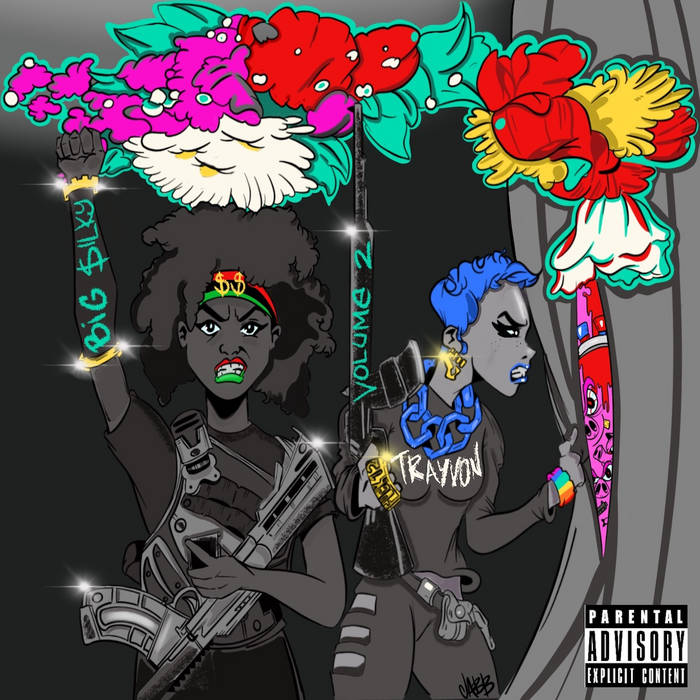 Previous: SkyBlew x SublimeCloud - Destined: The Realization
Next: Five Steez & Mordecai - HeatRockz2.0