SkyBlew x SublimeCloud - Destined: The Realization
Written by Chi Chi Thalken on July 2, 2020
Back in 2016, Chapel Hill emcee SkyBlew teamed up with Raleigh producer SublimeCloud to make a project called Destined: The Rebirth. Just a year later, they returned for round two with Destined: The [R]Evolution. With a lot of different projects in between now and then, the two have finally come back together to make this a trilogy by releasing Destined: The Realization.
If The Rebirth was about refocusing and pushing to make a music career happen, and The [R]Evolution was about artistic growth and taking that next step forward, The Realization is something of a celebration that a lot has been accomplished in these past four years. It's not about throwing money in the air while partying on a yacht – this is about celebrating living an artistic life and actually getting to make things happen and inspiring people to dream. In creating this project, the duo have imagined this album as a musical manga, where each song is an episode, there is periodic narration (including one spot from Mega Ran), and the whole thing can be played from front to back or back to front. Musically, it feels like SublimeCloud is finding his own way to navigate between the throwback jazzy boom bap that SkyBlew has clearly thrived with on other projects and live drums and synth style that feels reminiscent of The Neptunes, and then throwing in just a little bit of anime score for good measure. The key here is that while certain aspects here and there might remind you of someone in particular, by the time you take a step back and listen to the album for a second time, you can really appreciate just how beautiful and breezy and bouncy the soundscape is. This works well for SkyBlew, because while it doesn't completely throw him out of his comfort zone, it does push him just a little to adjust his flow here and there, but without losing his distinct voice along the way. He's still rocking this melodic, easy going flow while he raps about dreaming, making a space for his fellow Blerds, and bringing people together with art and music. It all comes together to make an album that feels like you're floating on a cloud on a beautiful summer day.
I don't know if Destined: The Realization will be the last in this series of collaborations or not, but if it is, they've certainly gone out on a good note. This is a very fun and inspiring album from a couple of dreamers.
| | |
| --- | --- |
| Title: | SkyBlew x SublimeCloud - Destined: The Realization |
| Label: | S/R |
| Year: | 2020 |
| Rating: | 8/10 |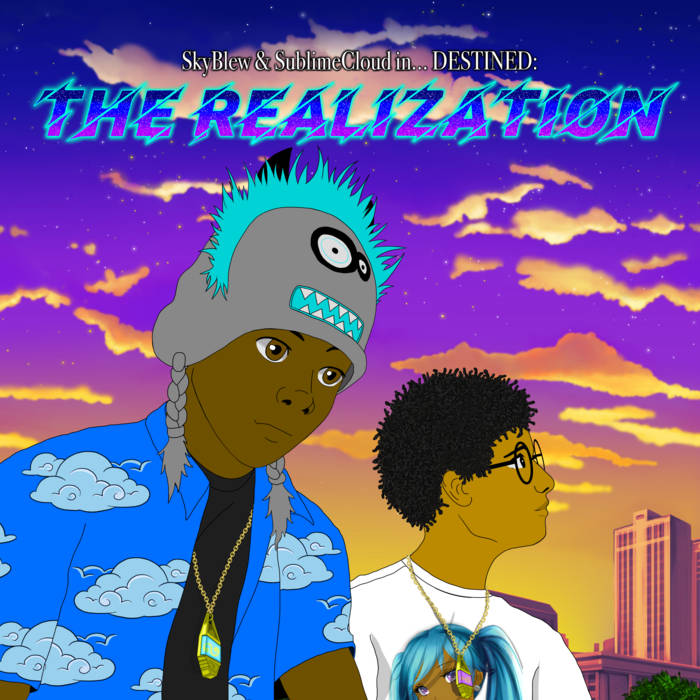 Previous: Small Professor - A Jawn Supreme (Vol. 1)
Next: Big $ilky -Big $ilky Vol. 2