Ben Buck - Speaker Bump Deluxe
Written by Chi Chi Thalken on October 15, 2020
Ben Buck is an artist from Austin that has really been going strong over the last five years as an emcee, producer, and beatboxer. He's been busy in 2020, with an album, Kilroy, coming out in January, which was then followed by a collection of instrumentals and a slew of collaborative singles. Now he's back with another album, Speaker Bump Deluxe.
For this album, Buck is handling production and rhyming duties, and he's coming out of the gates swinging on both counts. I mean, if you're going to name your album Speaker Bump Deluxe, it better bump, right? Well Buck is bringing some grimy, gritty, underground boom bap that will have you nodding your head and making some stank face. There's just a ton of energy to the album that will make you want to turn this shit up. This carries over to the mic as well, as Buck starts rhyming with a sense of urgency as he talks some shit, but also gets real critical about the city that he lives in, and he gets really passionate when he starts talking about building his career with his friends. He also brings a lot of his friends along for the ride, including A-F-R-O, Jarv, Jamar Equality, Mad1ne, NateTheeGreat, Zeale, Nick Cruz, and Valor Alan, which gives the album a real cypher feel for a large chunk of the album. This also lends to this really communal and live energy to album. It all comes to a head when you get to the last song of the album, "Barfly," when Buck specifically talks about the damage that COVID has done to his city, with music venues and bars shutting down left and right, making it harder and harder for the Live Music Capital of the World to keep it's title.
Speaker Bump Deluxe works on the level of just delivering hard core hip hop for the heads, but as you peel away the layers, you'll find a lot of depth there that will reward on repeat listens. Buck is a talent with a lot of passion about his music and his city, and it comes through on this album.
| | |
| --- | --- |
| Title: | Ben Buck - Speaker Bump Deluxe |
| Label: | S/R |
| Year: | 2020 |
| Rating: | 8/10 |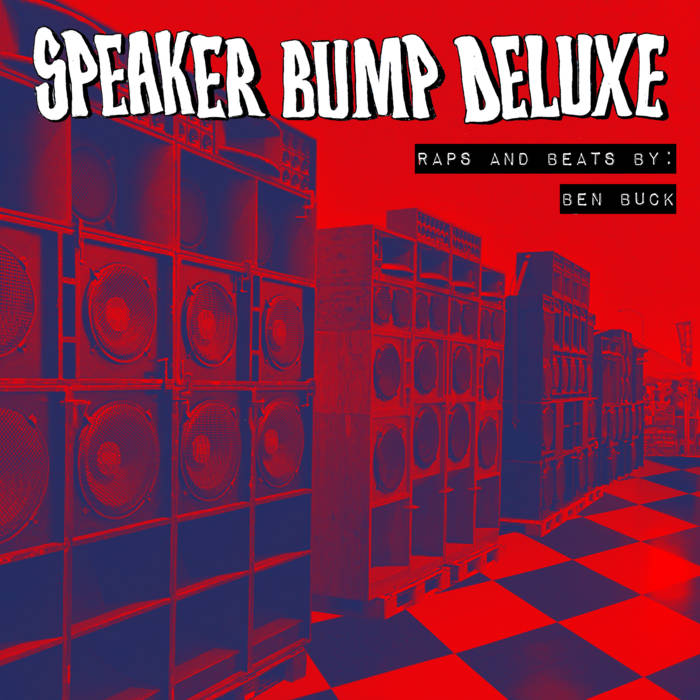 Previous: Elusive - Horizons
Next: Various Artists - All Things Considered Vol. 1