AWOL One - Can't Handle Us
Written by Chi Chi Thalken on November 17, 2020
Awol One is an underground legend from Los Angeles that has been releasing music for over two decades. We got a full length album from him all the way back in February, Tony The Walrus. Now he's back with a new EP, Can't Handle Us.
Can't Handle Us is produced by Pigeon John, who most people might think of as an emcee, but he's been making beats for quite some time as well. For this project, when you're dealing with an emcee in AWOL ONE who lives outside the box, Pigeon John could give him some of his most unorthodox beats and rest assured that AWOL could handle them. And that he most certainly does. Can't Handle Us isn't going to give you a lot straightforward West Coast hip hop, but what it is going to do is dance around in the grey alternative areas where genres blur and AWOL's low, half-sung delivery and quirky lyricism can thrive. He covers a decent amount of ground in the short space given, moving from the personal rhymes of "Right Now is All" to the shit talking buddy rhymes of "Oderless," featuring fellow Cloaks member Gel Roc, to the TMBG-esque opening track, "2345 Alive." If you're looking for something different, AWOL ONE and Pigeon John have you covered.
AWOL ONE has been coloring outside the lines for over twenty years, and he found a nice partner for this project in Pigeon John. Can't Handle Us is playful, artful, and pushes musical boundaries, all in the course of four well-crafted songs.
| | |
| --- | --- |
| Title: | AWOL One - Can't Handle Us |
| Label: | I Had An Accident |
| Year: | 2020 |
| Rating: | 8/10 |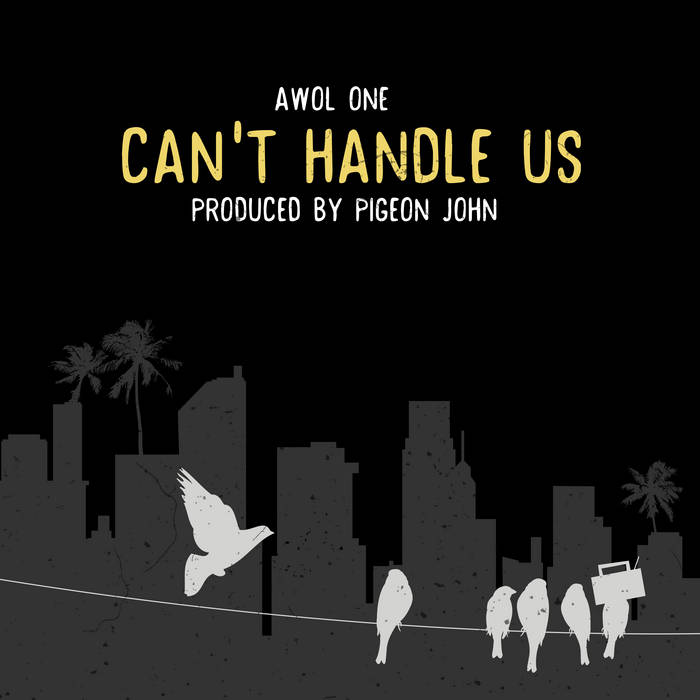 Previous: BoomBaptist - COVID the Earth
Next: jusouL - çocuklar