1520 - Mosquito Fly & Starships
Written by Chi Chi Thalken on November 26, 2019
1520 is the collaboration between MC Nomadic Poet of the Legendary Planets Crew and producer Drematic XL, both veterans of the London underground hip hop scene. As students of hip hop might catch on, the name of the group comes from the address of the apartment building on Sedgwick Avenue in the Bronx where Kool Herc and his sister, Cindy Campbell, threw a party that is largely acknowledged as the birth of hip hop. With that spirit in mind, they now drop their first album as a group, Mosquito Fly & Starships.
While the name of the group might harken back to the oldest days of hip hop, the sound of 1520 only travels back about twenty-five years, right in the middle of the '90s in New York. This album is about that introspective mid-tempo boom bap, the kind that artists like Nas, Mobb Deep, and Pete Rock & CL Smooth were throwing down. This is to say that if you're of a certain age, or just like that style of hip hop, this is a very easy album to listen to, because it will immediately feel familiar to you. They're not reinventing the wheel or anything, just throwing down some gritty and soulful beats and rhymes. They've got good chemistry on the album, and it's clear that they were on the same page going into this project. Drematic XL cooks up plenty of soulful grooves that allows Nomadic Poet to just sit back in the pocket and drop some rhymes and tell some stories. The album is at it's best when Nomadic Poet digs deep and opens up about his personal journey, whether it be about his religion and identity as the child of Pakistani immigrants on songs like "Minority Report" or "Hajj." There's also the standout track, "Oh Momma," a beautiful tribute to his late mother, with the assist from Drematic XL, who finds some beautiful piano samples to compliment the sentiment of Nomadic Poet's words. At 18 songs and an hour in length, though, the album could stand from just a little bit of editing down just to make the whole thing a little tighter and avoid listener fatigue.
Mosquito Fly & Starships isn't groundbreaking, but it is an incredibly solid album from a couple of veterans that wanted to pay tribute to an era of hip hop that they came up on. It's heartfelt hip hop that just feels good to listen to.
| | |
| --- | --- |
| Title: | 1520 - Mosquito Fly & Starships |
| Label: | S/R |
| Year: | 2019 |
| Rating: | 8/10 |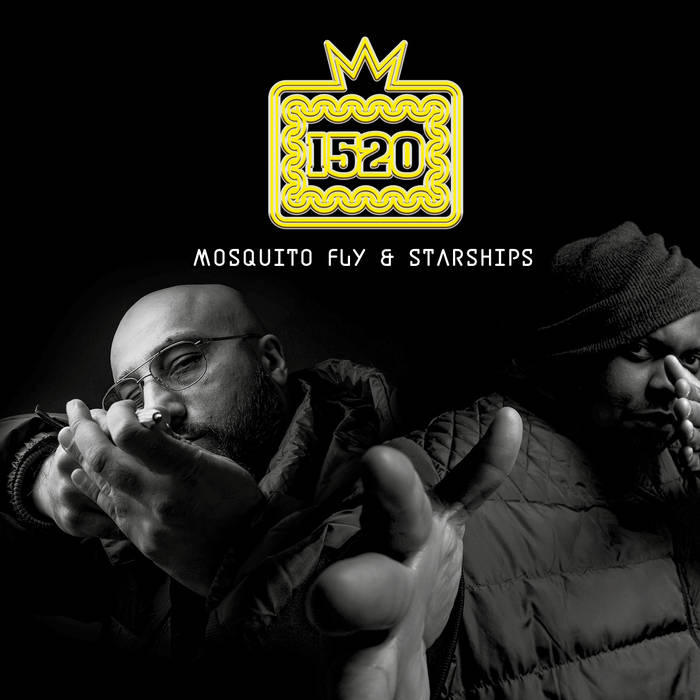 Previous: Royal Air Moon - Derrière la nuit
Next: The Other Guys - Autumn in Analog