Third Root - Trill Pedagogy: Winter Flex
Written by chichi on January 27, 2019
The San Antonio/Austin group known as Third Root has been busy recently with a project known as Trill Pedagogy. Trill, of course, being the word coined in Port Arthur combining the words "true" and "real," and pedagogy meaning the practice and method of teaching. They've already released two volumes of EPs for the project, Summer Semester and Fall Semester. Things now move into the intense period of learning, Winter Flex.
For Winter Flex, the group continues to work with producer Adrian Quesada, who not only shows great chemistry with the group, but also shows more range with this installment. In the previous semesters, the music leaned between Tex-Mex influences and some classic East Coast boom bap. On Winter Flex, the music finds an interesting balance between old school '80s beats and the trill Houston-Port Arthur beats of the '90s. It all works, though, because Quesada is that talented and knowledgeable as a producer, and MexStep and Easy Lee are that versatile on the mic. Over the course of the EP, we get another good mix of education and entertainment, as Third Root cover current topics like MAGA and the NFL, but also bigger picture topics like cultural appropriation and the influence of technology on society. It all comes together to make an EP that absolutely bangs, but also gives you a lot of food for thought with each listen.
Third Root are one of the best things going in Central Texas right now, and with this project they've done a great job of presenting hip hop that is really fun to listen to while also challenging you to think about different aspects of society, where you stand on certain issues, and what you might do about them. Winter Flex is an intense five songs that cranks the energy of the music and the urgency of the lessons contained within.
| | |
| --- | --- |
| Title: | Third Root - Trill Pedagogy: Winter Flex |
| Label: | S/R |
| Year: | 2019 |
| Rating: | 8/10 |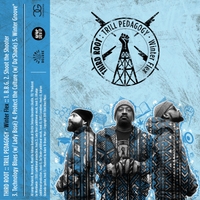 Previous: Thorts/Kady Starling - Come What May/Waiting To Expire
Next: Kadesh Flow - Otaku Moods