Third Root - Trill Pedagogy: Spring Semester
Written by Chi Chi Thalken on May 4, 2019
San Antonio group Third Root has been making music for years, but they started their most current project, Trill Pedagogy, back in July of last year. Since that time, they've released a new EP for each semester. So now, after Summer, Fall, and Winter, we finally bring the project to a close with Spring Semester.
As with the previous installments of the project, Third Root once again works with producer Adrian Quesada, but this time they also enlist some extra help from nu-cumbia artist El Dusty, who helps bring that Tex-Mex flavor to their hip hop. One of the most interesting aspects of this EP in particular is the way in which it plays out like a final lecture after you've put in work all semester. "MexStep For President" feels like a thesis statement about all the structural problems in America, such as immigration, health care, education, and economic policies, just to touch on a few. "Sonidero/Spring's Break" serves as a reminder that having a care free summer is a privilege that not all have access to but taking time to take care of yourself and your mental health is something that is helpful to all of us. "Trill Pedagogy Theme" is an anthem for all the teachers who are doing their best to truly give the next generation the tools they need to go out and make the world a better place, despite all the odds stacked against them. The last two songs, "Did I? (Put Enough Work In)," and "Spring Groove," end the project on a mostly instrumental note, allowing the producers a chance to shine, along with DJ Chicken George, who lays down some tasty scratching as well. It all comes together to real drive home the idea that hip hop can be dope and educational at the same time, without sacrificing on either side.
Third Root has been one of the jewels of Central Texas hip hop for a while, and Trill Pedagogy really drives home this idea. Each semester had its own unique angle and flavor to it, but now that we're at the end, you can really take a step back and see how it all comes together, and how each semester was in conversation with the others.
| | |
| --- | --- |
| Title: | Third Root - Trill Pedagogy: Spring Semester |
| Label: | S/R |
| Year: | 2019 |
| Rating: | 8/10 |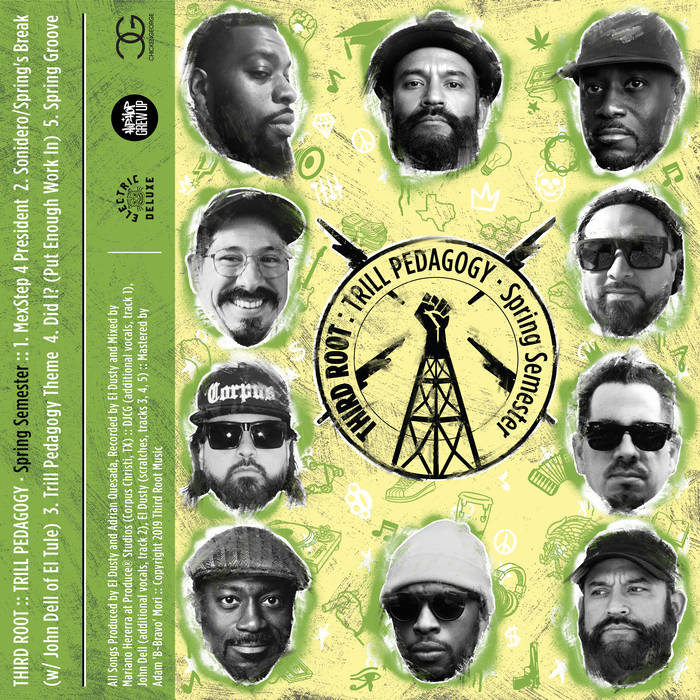 Previous: Amerigo Gazaway - Endless Summer
Next: Onewerd - Timeless