Stik Figa - East of MacVicor Ave
Written by Chi Chi Thalken on September 17, 2021
Stik Figa is an emcee now based in Fort Worth, but he came up in Topeka, Kansas. He's been releasing music for over a decade, first breaking through with his Mello Music Debut, As Himself, in 2012. His last album came in May of 2020, when he dropped If It's the Last Thing I Do. Now he's teamed up with DFW producer DJ Sean P to create a project called East of MacVicor Ave.
Stik Figa simply explains, "This project is a love letter to the town that raised me." That town is Topeka, Kansas, a city that – let's face it – a lot of people don't think about if they aren't from the area. Stik Figa knows this, of course, as a guy that grew up there, and so he expertly taps fellow Topeka-raised artist STR8jakkett to help set that scene on the opening track, "Exit 362C," where he lays out the geography of where they grew up and gives you the recent history of how drugs and gangs infiltrated the city in the '80s. This transitions right into "Outside," where Stik Figa and another Topeka artist, BizzWho, do an expert job of riding this laid back bass heavy beat from Sean P and describing the tightrope they had to walk as Black boys becoming men in city. They're balancing the fond memories of hanging with their friends and playing basketball alongside the quick growing up they had to do recognizing when people were flashing gang colors and knowing that at any moment a gun might make an appearance and change the situation real quick. This equilibrium is key throughout the rest of the EP, as Sean P does a great job of crafting these soul and gospel infused hip hop tracks with just a touch of grit to them, which sets the tone perfectly for Stik Figa on the mic. He clearly loves his city as someone who grew up in a place that most people don't give a second thought about, but he's not just going to glorify or romanticize a place that was pretty rough on a Black kid. Also, with time and distance, he's able to see the bigger picture, how external forces create these neglected neighborhoods that are poor and largely populated by minorities. Always finding that balance, though, as Stik Figa always keeps a critical eye on things, he also celebrate sthe joy, the friendships, and the hope he found growing up in Topeka as well. This is really evident on my favorite track on the EP, "Tell it All," which makes great use of choir and organ samples as Stik Figa goes in on how his faith helped give him the drive to pursue his dreams and find his voice.
East of MacVicor Ave is a relatively short project, but it is easily some of Stik Figa's best work to date. His chemistry with DJ Sean P is fantastic, and his lyricism is intelligent and heartfelt. You get great pop hooks and beats that will sound great coming through on your car stereo while also giving you so much lyrical depth that you'll develop a deep personal connection with the music as a listener.
| | |
| --- | --- |
| Title: | Stik Figa - East of MacVicor Ave |
| Label: | S/R |
| Year: | 2021 |
| Rating: | 9/10 |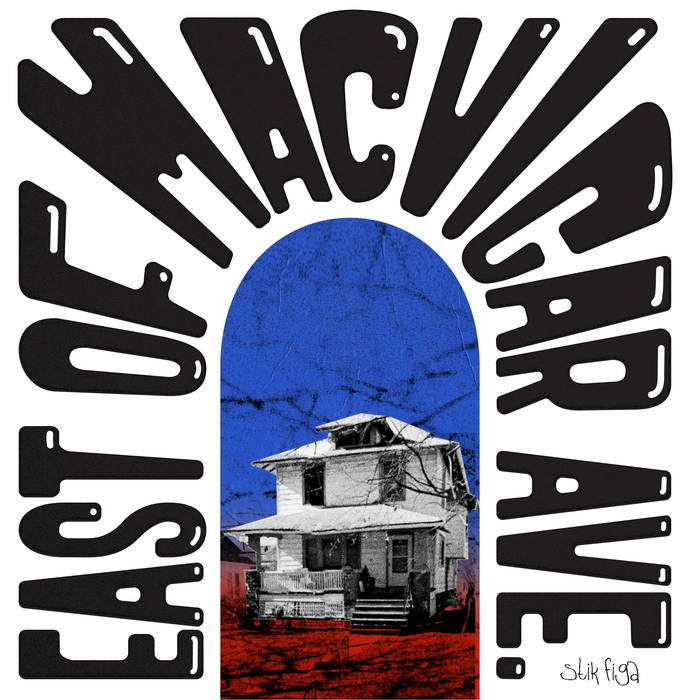 Previous: Injury Reserve - By the Time I Get to Phoenix
Next: Mopes - Mopes