Rich Jones & Montana Macks - How Do You Sleep at Night?
Written by Chi Chi Thalken on November 5, 2020
Chicago emcee Rich Jones and producer Montana Macks have been friends and collaborators for about twenty years, first meeting on a school bus before they both began this journey into music. Going into quarantine in March, Rich Jones was trying to finish a different album, but couldn't get his head right to do so. As it so happened, it was at about the same time that he reconnected with Macks, who started sending him beats. While recent output has seen Jones going in different directions and exploring more of his vocalist side, it felt right for Jones to get back to his roots as an emcee as he dealt with the current situation and wrote what came natural. The result is now here in the form of the full-length album, How Do You Sleep at Night?
If you're like me or Rich Jones, How Do You Sleep at Night? is probably a question you've both been asking in one tone as you check in with your loved ones, but also one you've been yelling in a different tone at your TV, computer, or phone. We've been living in some strange fucking times to say the least, and this album is Jones's attempt to process everything we've been seeing over the last nine months. It helps that this album is being crafted alongside someone in Montana Macks that is not only an old friend, but a really dope producer that not enough people know about. He's laying down beats that are rooted in soul-sampling boom bap, but sometimes veer into other styles like drill or trap. No matter the style, though, the beats are funky and soulful and just really capture the sound and feeling of this year. They also really encourage Jones to dig dip and deliver some of his best, honest lyricism of his career. Over the course of the album, he's creating some really intelligent and emotional discourse as he discusses everything from dealing with vices like smoking and drinking as a coping mechanism to all the external stress, to big picture issues like the pandemic and police brutality, and what it means in 2020 for a white Jewish guy in Chicago to be a part of the hip hop scene. It's all on the table. What makes this album particularly great is that Jones is doing all of this, but he's also taking the time to carefully craft his songs and his lyricism to find room for some complex flows and clever wordplay, but never at the expense of the emotion and the message. On top of all this, he and Macks are also finding the right balance between moments of introspection and moments where the album absolutely BUMPS. Did I also mention how fucking Chicago this album is? As you work your ways through the tracks, you'll also hear from such talents as Mykele Deville, Blk, Davis the Dorchester Bully, and A.M. Early Morning, all before the whole album culminates in the best posse track you'll hear this year, "Locals Only," featuring Matt Muse, Defcee, Skech185, Psalm One, and Jovan Landry, one of the best murderer's rows assembled this year.
There are a lot of albums this year that really sound of their time, but How Do You Sleep at Night? is definitely among the best. It's urgent with righteous anger, introspective with questions of self-care, and everything in between. It's musically complex, yet easily accessible, but it's this raw honesty that comes through that is going to connect with everyone that listens to it.
| | |
| --- | --- |
| Title: | Rich Jones & Montana Macks - How Do You Sleep at Night? |
| Label: | S/R |
| Year: | 2020 |
| Rating: | 9/10 |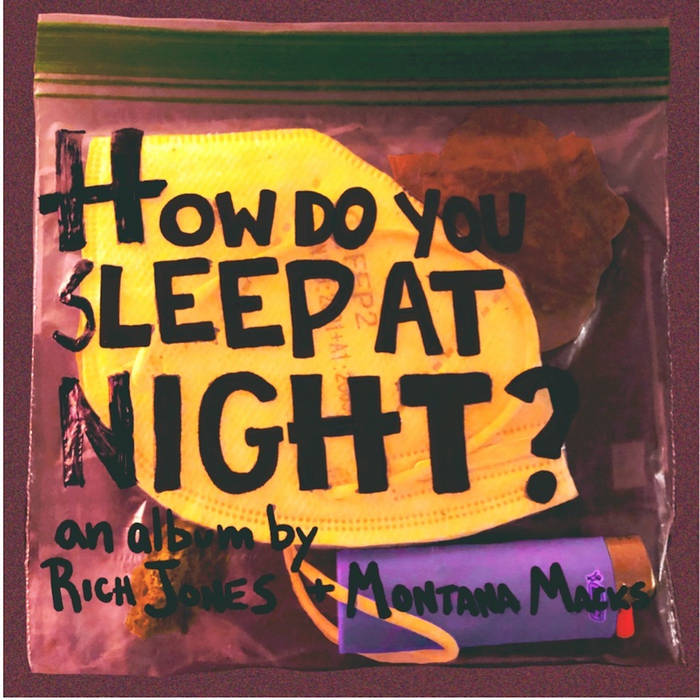 Previous: Lex the Lexicon Artist - Lex and the City
Next: ialive & Cody Cody Jones - Cool Code & Don