mr. hong & pastels - cafe p.m.
Written by Chi Chi Thalken on December 4, 2020
Back in May of this year, Bay Area producer/musician mr. hong teamed up with Melbourne musician pastels to release a concept EP called café a.m. It wasn't anything too complicated, but it was effective and relatable as they told the story of a couple meeting cute in an elevator and then going on a date at their local coffee shop. Now they are back to pick up where that EP left off with café p.m.
On café p.m., the couple from the previous EP had such a nice date, we now join them as they have a fun and flirtatious evening that hops around from lounge to house party to diner to club, ending up back at the same elevator their adventure began at. It's very sweet and exciting, and mr. hong and pastels do a great job of telling this musical story. They still have this home base of hard bop jazz and downtempo instrumental hip hop, but now they are bringing in influences of bossa nova and trap to the proceedings. The trap side of things help ramp the energy up as the couple takes their evening up a notch, but the bossa nova keeps this level of sweetness to things that lets you know that this is more about the romance than just a sexual connection (not that there's anything wrong with that - just not the story being told here). Another way in which this project sets itself apart from the previous is the number of guest emcees and vocalists across the album, as Dane Amar, Jenn Im, Chow Mane, Wes, Carlton Carvalho, Naji, Jay Squared, Devyn Moon, Maydien, Hans, Akacia, Ben Beal, Sarah Hemi, and Late Lee all hop on the mic. I can't say that anyone necessarily sets themselves apart lyrically, as everyone keeps it a little generic with their romantic and flirtatious lyrics, but it all works in keeping with the overall concept of the album, as this couple is having fun getting to know each other and flirting all night as they make a connection. At the end of the album, though, mr. hong and pastels take a moment to close things out themselves and show you just how powerful their writing, arranging and musicianship are with the absolutely gorgeous build of "hold the elevator," as horns, piano, choir, marimba, sax, and bass all dance with each other and create this feeling of excitement. What really makes things special, though, is the way in which jazz drums come across over the top of the mix and drive the entire thing to a crescendo, bursting with excitement that communicates those butterflies in their stomachs exquisitely.
café p.m. is a wonderful album on its own, but it's even better when you listen to café a.m. first and see the whole musical vision play out. It's not the concept that will blow you away, but the musicianship, passion, and chemistry that mr. hong and pastels have put into this project really make the whole thing feel special.
| | |
| --- | --- |
| Title: | mr. hong & pastels - cafe p.m. |
| Label: | S/R |
| Year: | 2020 |
| Rating: | 9/10 |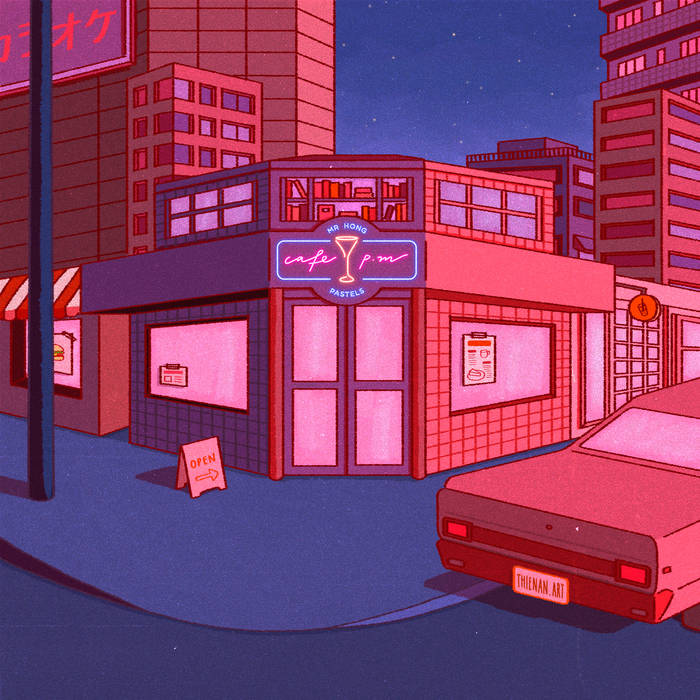 Previous: Shrimpnose - Small Wonders
Next: Flobama - Bento Beats (Combo #1)