Marcos Valle, Ali Shaheed Muhammad and Adrian Younge - JID003
Written by Chi Chi Thalken on August 26, 2020
Back in March of this year, Adrian Younge and Ali Shaheed Muhammad of Midnight Hour announced their new imprint, Jazz is Dead, with a compilation of artists that would be featured on their upcoming releases. The idea behind this project is to give older jazz musicians the opportunity to record all new material, and in doing so, put them in a position to once again be part of the current conversation, so that we aren't just talking about them in the past tense. The first artist to get this treatment was Roy Ayers, who released his album in June. Now these two are giving the assist to Brazilian artist Marcos Valle.
In case you aren't familiar with him, Marcos Valle is an artist from Rio De Janeiro who gets his start in the early sixties, but really had his hey day in the late sixties and early seventies, as he's going back and forth between Brazil and the U.S. During this time, he's experimenting with everything from jazz to samba to prog rock and soul, just to name a few. Over the years, he's worked with everyone from Sergio Mendes to Sarah Vaughn to Celso Fonseca. While other artists on Jazz is Dead might have seen their career slowed down in recent years, Valle has never really pumped the breaks in any real way. Now, as a crossover artist that people in the U.S. might now about, that's a different story, since he's not as well known these days as people like João Gilberto or Antônio Carlos Jobim. Granted, these artists are all doing different things and the years don't line up exactly, but the point is that Marcos Valle deserves to have his name in the conversation when Americans talk about Brazilian jazz. Fortunately for us, Adrian Younge and Ali Shaheed Muhammad knew that, and they are using this moment to shed a light on Valle's musicianship. Over the course of eight songs, Valle is giving us incredibly subtle and sophisticated acoustic guitar and using his voice to both croon gentle melodies and to do some percussive scatting, all while creating this warm and romantic soundscape. It's an incredibly intimate sounding album, helped by the fact that Valle never feels the need to raise his voice or turn up the volume of his guitar. No, this is an album that invites you to listen closely as Valle and company unveil some really carefully crafted and just plain gorgeous songs that will warm the soul as he mixes jazz, samba, and soul.
Jazz is Dead has had a short existence so far, but they are really making this time count. Marcos Valle is a great musician, and Adrian Younge and Ali Shaheed Muhammad really put him in the best position to succeed. Together they've crafted a beautiful album of Brazilian jazz and samba that will sound perfect as these hot summer days start to cool down just a little.
| | |
| --- | --- |
| Title: | Marcos Valle, Ali Shaheed Muhammad and Adrian Younge - JID003 |
| Label: | Jazz Is Dead |
| Year: | 2020 |
| Rating: | 8/10 |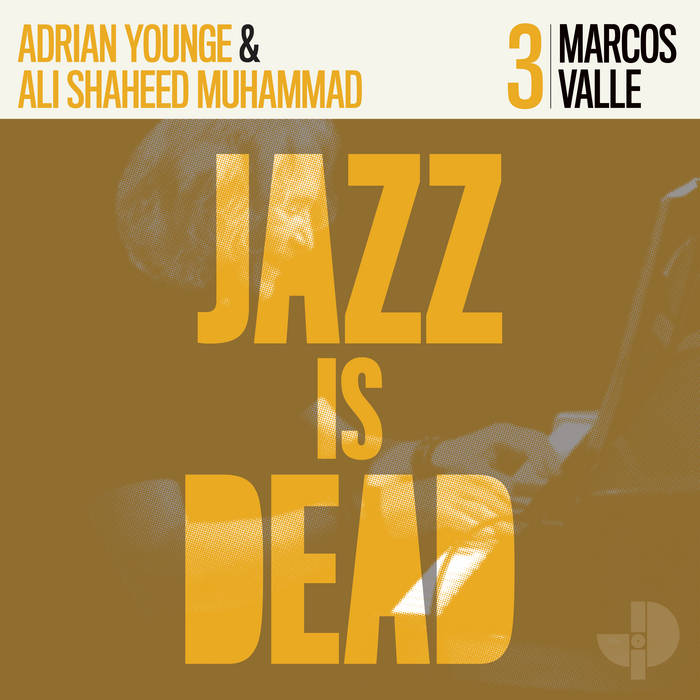 Previous: Stik Figa X Conductor Williams - Tomorrow is Forgotten
Next: Small Professor - A Jawn Supreme (Vol. 2)