Kuf Knotz & Christine Elise - Ké myōōnėdé [Community]
Written by Chi Chi Thalken on October 27, 2021
Kuf Knotz is an emcee from Philly that is over a decade into his career, with albums out on Mad Dragon and Ropeadope. Three years ago, he teamed up with harpist/pianist/vocalist Christine Elise to release an album called Higher Grounds. It went so well, they are now back for round two as a duo, releasing their new full-length album, Ké myōōnėdé [Community].
For this album, Knotz and Elise are bringing in producers DJ Sat-One, Barry Myrick, Brent Hoskins, Arjun Dube, Hezekiah, M-R Product, MH the Verb, INF Beats, Stijn, as well as producing a couple of tracks themselves. On top of this, they are also bringing in live instrumentation with keys, flute, bass, guitar, violin, viola, and harp, along with a few guest vocalists as well. If that sounds like a lot of cooks in the kitchen, it most certainly is, because this album is nothing if not ambitious. Knotz and Elise are weaving their way through everything from classic East Coast hip hop to dub and reggae to disco pop to R&B to jazz to classic to indie pop. For all of the aspirations they had in putting this wide-ranging album together, they do a good job of pulling everything together and sequencing the album in such a way that all of these different influences make sense across the album. The biggest key here is the chemistry that Knotz and Elise have together, with a commitment to spreading love and positivity through their music, creating a really nice balance between Elise's classical training and indie-rock vocals and Knotz's hip hop/reggae roots. There are times where they walk right up to the line of becoming too earnest and cheesy in this mission, but they never really cross over into the land of no return. Overall, the album is a success, but the main thing holding this album back from reaching its true potential is the lack of editing. For one, the album is nineteen tracks and fifty three minutes long, which isn't way too long in the general scope of things, but it is too long when you listen to the album a few times through and realize there is a little bit of fat that could be trimmed here and there to make the album run a little smoother, such as the spoken introduction to "beauty," which eplicitly explains the concept of the song, which listeners could pick up on their own. It's just a few minor things here and there like that could be cleaned up to really make this album great.
Ké myōōnėdé [Community] isn't a perfect album, but sometimes you have to swing for the fences, which is what Kuf Knotz and Christine Elise did here. It's got grand ambition and a lot of hope to the music, which is certainly to be applauded. Hopefully they stick with it, because they have great chemistry and a unique sound together.
| | |
| --- | --- |
| Title: | Kuf Knotz & Christine Elise - Ké myōōnėdé [Community] |
| Label: | Hightide Records |
| Year: | 2021 |
| Rating: | 7/10 |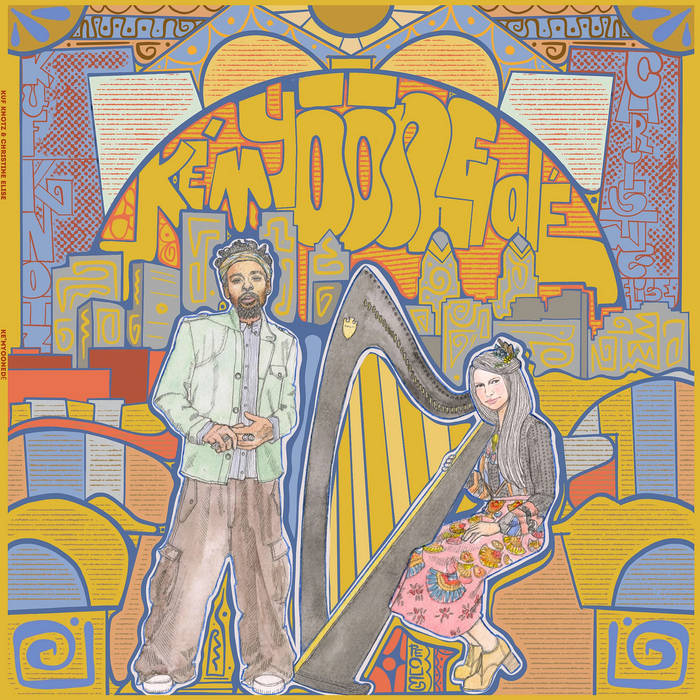 Previous: Sundur - Somewhere There's Music
Next: P.T. Burnem - Imaginary Album #0