Krum & Theory Hazit - Here's Mud in Your Eye
Written by Chi Chi Thalken on October 28, 2019
Dallas artist Krum has been going strong all decade long, first under the name Playdough before making the switch over to Krum when he released Bare Knuckle Gospel with Rob Viktum in 2016. While he has self-produced before, he also understands the value of working with another producer, such as Viktum or Sean Patrick. For his latest project, he's teamed up with Portland, Oregon producer Theory Hazit to release the album Here's Mud In Your Eye.
Sometimes when you've been making music as long as Krum has, you just need get back to basics, which is exactly what he's doing with Here's Mud In Your Eye. Theory Hazit does a great job of cooking up these funky, grimy, soulful, intricate loops, the types that would be perfect at a cypher, where emcees could just hop in and spit fire. It's the type of album that you'll want to turn up, nod along to, and make some stank face. While you're doing that, Krum is taking everybody to school and church at the same time on the mic. This album is dropping with clever wordplay, punchlines, and shit talking, but Krum is so nice on the mic that he's able to bob and weave and seamlessly work in some extremely personal and soulful rhymes as well. One minute you'll be rewinding to make sure you caught a line right and unpack the double meaning that he slipped into a punchline, the next minute you'll be following along as Krum does some intense soul searching as he discusses family issues and his faith as he takes stock of his life in this moment. It's an incredibly dense album, but because Krum and Theory are so good at what they do, they make it all sound effortless. And that's ultimately what makes this album so good, and why it will stand up to the test of time. On the most base level, it's funky and it's fun to listen to, but it holds up because of all of the intricate work and care that Krum and Theory put into it. You can spend a lot of time dissecting all of the nuanced pieces of the album and enjoy on a new level each time you listen to it.
Some of the best albums are those that catch you off guard. I knew that I was most likely going to enjoy a new Krum album, since he's already delivered some great ones in years past, but I didn't know just how much this album was going to sneak up on me and grow and reveal itself which each listen. He and Theory Hazit have great chemistry together, and they've cooked up something special with Here's Mud In Your Eye.
| | |
| --- | --- |
| Title: | Krum & Theory Hazit - Here's Mud In Your Eye |
| Label: | S/R |
| Year: | 2019 |
| Rating: | 9/10 |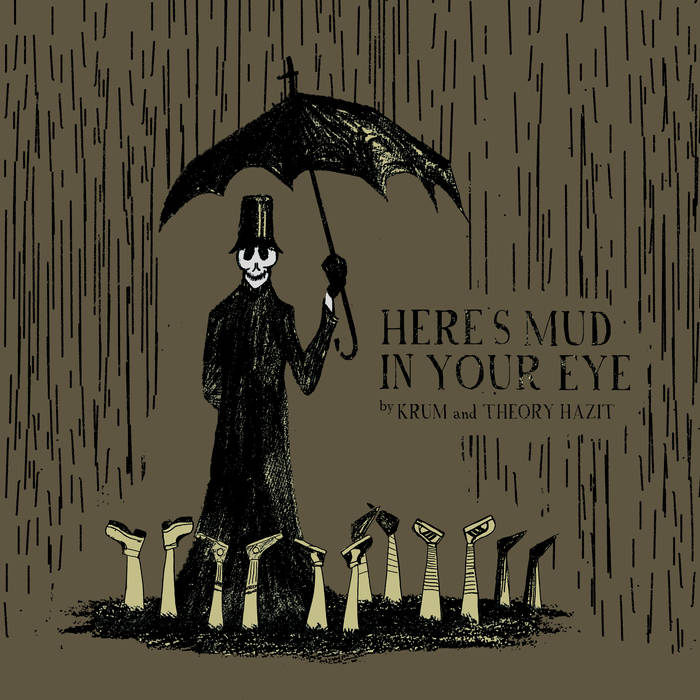 Previous: Uncle_EL - Now U C Me?
Next: The Vapor Caves - Feel Yourself