Jneiro Jarel - After a Thousand Years
Written by Chi Chi Thalken on November 5, 2020
Artist Jneiro Jarel has had a long and winding journery. He was born in Brooklyn, and then spent most of his childhood in Houston. In the late '90s, he relocated to New York, where his career took off when he was discovered by Hank Shocklee. Over the years, along with his own solo career, he's collaborated with everyone from Ohmegga Watts to MF DOOM to Mecca:83 to Deborah Jordan. In recent years, Jarel had relocated to Costa Rica and had signed with Far Out Recordings. He was just putting the finishing touches on his album in 2018, when he suffered an ischemic stroke, and had to get transported back to the states to get the medical care that he needed. Now that he's made significant recoveries, it was time to finally release that project, After a Thousand Years.
There are plenty of reasons that it is great to finally have After a Thousand Years, but one of the main ones is that this was too ambitious of an album and was too much of a labor of love for Jarel to just sit on the shelf indefinitely. He had recorded the album over a series of sessions that took him from New York to New Orleans to Miami to Costa Rica, working along the way with musicians such as Bill Summers, Masauko Chipembre, Scott Burton, Dr Who Dat?, Capitol Peoples, Café, and Microclimate. The album itself covers a ton of ground, building on a foundation of Samba, Bossa Nova, Afrobeat, Jazz, and R&B, and then updating the sounds through the lens of modern hip hop and electronic production, bringing in influences of boom bap, downtempo, house, and more. The result is an album that is absolutely gorgeous to listen to, and works so subtly in weaving its way through all of these influences that you will absolutely miss a lot the first time you listen to this album. That is because while Jarel is swinging for the fences musically, he's not hitting you over the head with it. This is an album that lives and thrives on being nuanced, something you can really lose yourself in when you listen to it on headphones. Everything is so well developed, composed, and arranged, what can start as a simple groove with each track can really take you on a journey, and by the time you get to the end, you might take a moment and wonder how you got there, but you'll also appreciate that is was a fun and beautiful ride.
After a Thousand Years is a gorgeous album with ton of musicianship to it. Jneiro Jarel had to wait a little longer than expected for this album to finally see the light of day, but it was worth it, because he made this project count to its fullest.
| | |
| --- | --- |
| Title: | Jneiro Jarel - After a Thousand Years |
| Label: | Far Out Recordings |
| Year: | 2020 |
| Rating: | 8/10 |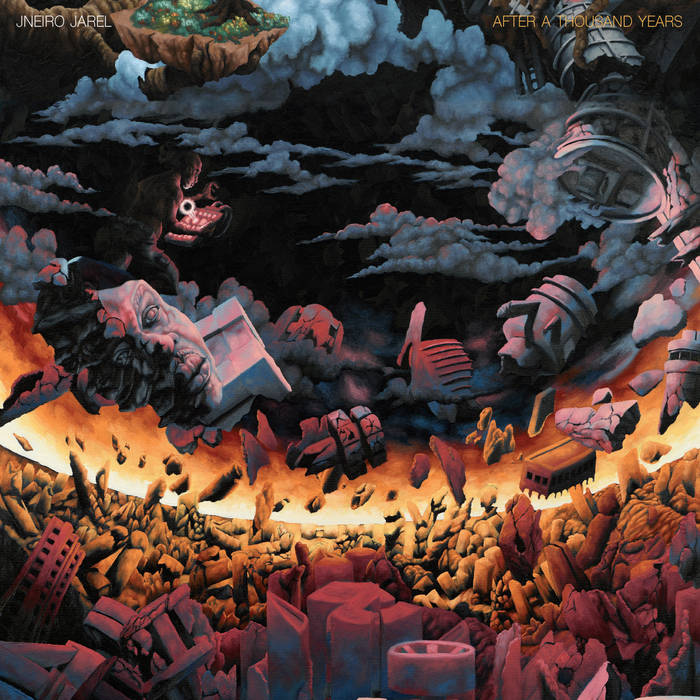 Previous: Bambu - Sharpest Tool in the Shed
Next: Lex the Lexicon Artist - Lex and the City