J.Lately - Tuesday
Written by Chi Chi Thalken on September 19, 2019
J.Lately is a Bay Area emcee who has been working steadily over the last five years, touring, releasing music, and building up his fan base. He first came to out attention when he worked with fellow Bay Area emcee Deuce Eclipse on the album The Setup, back in 2015. His most recent album came in 2017, when he released Be Fucking Happy. Now he comes back with his strongest album to date, Tuesday.
It's not that often that you get to see an artist make a step like J.Lately does with Tuesday, especially when that step isn't something that is easily and clearly defined. That is to say that when Be Fucking Happy dropped, I liked it, but I knew that there was a better album in there if Lately had just been pushed a little harder to get personal and open up some wound with his lyrics, instead of retreating to punchlines and weed raps. There's nothing wrong with a good punchline here or there, and I certainly don't care if anyone smokes weed or not, but when you crutch on these things as an emcee, more often than not you're going to sell yourself short. The good news here is that J.Lately clearly took that criticism to heart, because from the opening track on Tuesday, I could tell he was going in deep and was making the album I always knew he was capable of. For the album, he works with longtime collaborator and producer Space Cadet, and their chemistry together is excellent. Space Cadet does a fantastic job of putting together some really great modern hip hop/R&B beats with enough hyphy and West Coast boom bap infleunce to still rep The Bay. They have an amazingly full and luscious sound coming through your speakers, and really ask you to turn the volume up. He also has a knack for adding certain melodic elements at just the right moment to really land an emotional moment. In particular, the combination of electric piano and trumpet solo to open "Do Something" gets me every time. This sets the stage perfectly for Lately, who has a nice resonant voice on the mic and a nice conversational flow that often makes it feel like you're just catching up with an old friend as he relates his life on the road. And that gets us to the most important part of the album. The subject material on Tuesday isn't anything you haven't heard before, as J.Lately just rhymes about touring, making a life as an independent artist, trying to maintain romantic relationships, and keeping his friendships alive. What makes it special is how raw and honest Lately is, as he goes in about his own mental health, his hopes and fears as he builds a life for himself, and the ups and downs of living life on the road. It can get dark at times, but it's never self-indulgent and just wallows in the pain, and he balances that with a sense of humor (he's not afraid to laugh at himself), and with moments of hope and love. There are definitely moments when the album bangs and you can just lay back in the cut and enjoy the music on a surface level, but what makes this album really special is the way that you can listen to it over and over and catch a new personal moment each time through, and really build this connection with J.Lately as a listener.
I knew that J.Lately had talent, and I knew that at the very least Tuesday would be a fun listen. What I didn't know was that he was going to take his music to the next level and make an album that resonated so deeply on an emotional level. It required him to take a risk as an artist and to open up in a way that isn't always comfortable at first, but the payoff is there in some really honest hip hop that isn't afraid to show you all sides of J.Lately as an artist. That's something to be proud of.
| | |
| --- | --- |
| Title: | J.Lately - Tuesday |
| Label: | S/R |
| Year: | 2019 |
| Rating: | 9/10 |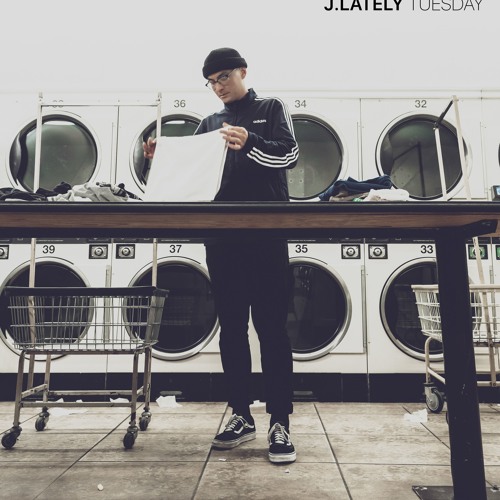 Previous: Shrapknel - Cobalt
Next: Kiefer - Superbloom