Genesis Owusu - Smiling Without Teeth
Written by Chi Chi Thalken on March 5, 2021
Genesis Owusu is an artist that was born in Ghana and immigrated to Canberra as a child. He dropped his debut EP, Cardrive, in 2017. Since that time, he's dropped a number of singles and done some guest appearances, but we've still been waiting for that proper follow up release. Well, the wait is finally over as Owusu drops his debut LP, Smiling With No Teeth.
If you're going to take your time with a project, you want to make sure you do it right and make it count, and holy cow did Genesis Owusu make it count with Smiling With No Teeth. Working with producer Andrew Klippel and a core band of Kirin J Callinan on guitar, Michael DiFrancesco on bass, and Julian Sudek on drums, they craft a genre-bending album with deep emotional and lyrical complexity. The title of album refers to the idea of pretending things are okay when they aren't, which is a theme explored extensively throughout the project. As you work your way through the album, Owusu is weaving back and forth between explorations of the external, as he discusses all the ways in which he's been made to feel like an outsider for most of his life, and then looking internally to explore the issues of depression and anxiety that he's faced, and wouldn't you know it, he just might discuss how all of this is related. This is already a great building block to build from, but on top of this, Owusu is bobbing and weaving his way through musical genres, touching on everything from pop to punk to R&B to hip hop to new wave to post punk to funk, sometimes of the course of a few songs, but sometimes all blended together in one song. Because of this, the artist I was most directly reminded of as a contemporary was NNAMDI, but Owusu definitely has his own distinct artistic voice, and he displays a high skill level as both and emcee and a vocalist. Going from track to track, I'm reminded of everyone from Prince to Bowie to Fishbone to Living Colour to TV on the Radio to Steve Lacey to Sampa the Great to Noname. This is all to say that it's an incredibly complex album with a lot of ideas, but the real key here is that Owusu was able to find a way to boil all of this down and still make an album that is really pop friendly and accessible. You can listen to the album over and over again and dissect it and pick up all of these incredible nuances to the arrangements and layers of meanings to the imagery of his lyricism, but you can also just crank this up and sing along and have fun with it, or maybe sing to yourself with the tender moments and feel seen.
There are a lot of artists out there who have been striving to make an album on the level of Smiling With No Teeth, and they will continue to chase that standard, because this is no easy feet. Genesis Owusu has worked really hard to find his voice, to balance all of these different influences, and to speak truthfully and powerfully and creatively to his lived experience. It's all paid of with one hell of a debut album.
| | |
| --- | --- |
| Title: | Genesis Owusu - Smiling Without Teeth |
| Label: | High Anxiety/Ourness |
| Year: | 2021 |
| Rating: | 9/10 |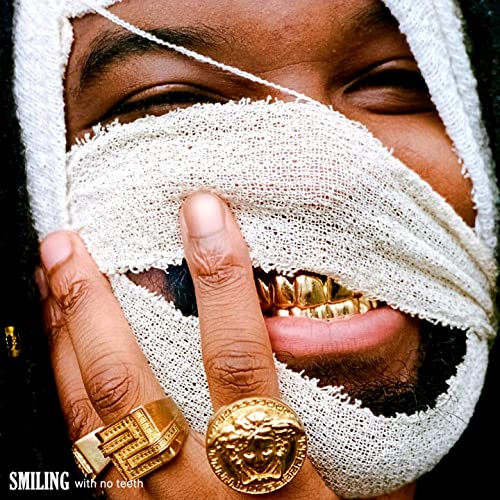 Previous: Teeth Agency - You Don't Have to Live in Pain
Next: Ben Buck - WHATABANGER