DJ Uncle Fester & Ambition - KREAM 3D
Written by Chi Chi Thalken on July 1, 2019
DJ Uncle Fester and Ambition are both part of the Backburner crew out of Toronto/Halifax/Ottawa, and as such they have both contributed to roughly a million projects. Among other things, Fester teamed up with Fresh Kils to make up The Extremities, and Ambition teamed up with Jesse Dangerously just last year to form Library Steps. Now the two have gotten together to drop an old school mixtape, KREAM 3D.
If you're not familiar with either artist, it will become clear very quickly that these are two rap nerds who love their rap history. I say this with the upmost respect as a rap nerd, but these days when someone says they dropped a mixtape, it could literally be anything, because the term has lost a lot of its meaning. Back in the day, it use to mean an unofficial release where a deejay threw together a bunch of previously released beats into a continuous mix, and emcees hopped on and off the tracks just to spit some fire without having to come up with a fully formed song. Everyone of a certain age is always going to have a particular mixtape that came into their life at the right time, where they latched onto a particularly dope verse or a particularly tight beat drop. It's out of this school of thought that Ambtition and Fester come together, with Fester dropping the beats and Ambition on the mic. Fester does a great job scratching and mixing everything together, blending together some obscure beats and some obvious ones that were begging to be rhymed over, such as Thudercat's "Them Changes." Ambition has a great low voice on the mic which has a nice resonance to it, and he's got a very clear delivery combined with a laid back delivery that just feels natural as he moves from beat to beat, dropping all sorts of clever wordplay and references for days. He's also joined by a plethora of friends over the course of the tape, with Relic, Cam Smith, Nilla, Jay Bizzy, Swamp Thing, Ghettosocks, Frank Deluxe, Jorun Bombay, Sean 1, Above, and Monark all hopping on to do there things and drop some flavor. It all comes together for a fun, throwback hip hop experience.
Sometimes the classic formulas are classic for a reason, and when you have top notch veterans like Fester and Ambition working on a classic mixtape formula, you're going to end up with something that sounds, well…classic. KREAM 3D is just a lot of fun to listen to, and they really take everyone to school with the project.
| | |
| --- | --- |
| Title: | DJ Uncle Fester & Ambition - KREAM 3D |
| Label: | S/R |
| Year: | 2019 |
| Rating: | 8/10 |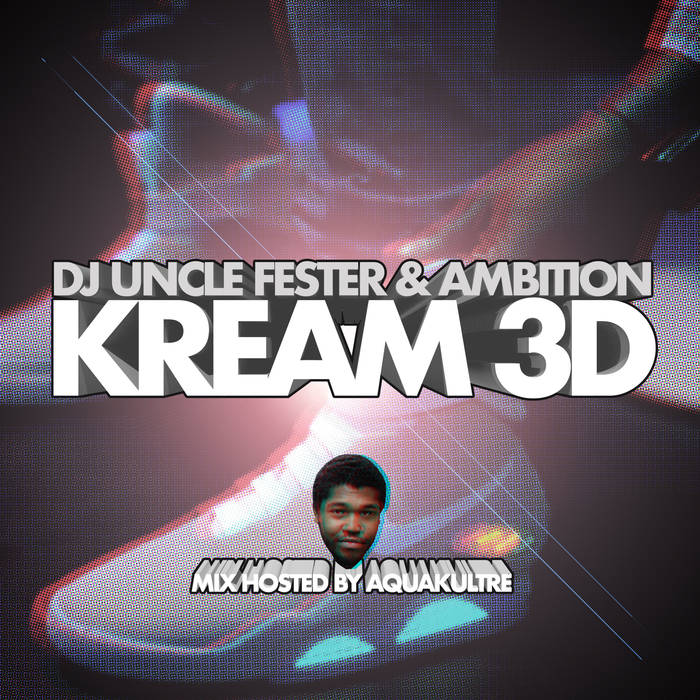 Previous: Justjoey - World Is Home
Next: Hurricane Party - Juice