Devin Burgess - That's Unfortunate
Written by Chi Chi Thalken on September 23, 2021
Devin Burgess is an artist from Cincinnati that has been releasing music since the mid-2010s. He's been staying busy in 2021, with two projects dropped earlier in the year and a live EP released in June. Now he's back with a new album, That's Unfortunate.
As Burgess explains, about 80% of this album was written and recorded during quarantine starting in 2020. As you might expect, this time gave Burgess a lot of time to reflect and look inward, and it comes through in the music. For the project, he's assembled quite the roster of producers, working with Lewbi, GMP, PK, Kwanli, Hiigh 10, Risky Patterns, Jay Bell, ovrkast, lo-tek, ae Beats, Kei$ha, Keemoh OG, and Sypooda. That's a lot of cooks in the kitchen, but Burgess does a great job of picking beats and putting them in the right sequence to create a nice flow and put all of this different music in conversation with each other. Mostly, the album is pretty laid back, finding a balance between trap and boom bap approaches to the production, sometimes finding a sweet spot in between the two. This all provides the soundscape for Burgess to step to the mic and get into his most inner thoughts and feelings. What this means in practical terms is that this isn't much of a pop album, and there aren't a lot of big hooks or "fun" moments. On the other hand, this is an album about the messy expression of just working through your shit and trying to figure out where you are with personal relationships, your career, and the world. As a result, it's an album that sounds really great on headphones on an overcast day, when you can really get into your own head and feel like you're having a conversation with the album.
That's Unfortunate is a really introspective and moody album to reflect a really introspective and moody time for a lot of the world. Burgess really put a lot of himself into the album, and it comes through in the music.
| | |
| --- | --- |
| Title: | Devin Burgess - That's Unfortunate |
| Label: | S/R |
| Year: | 2021 |
| Rating: | 8/10 |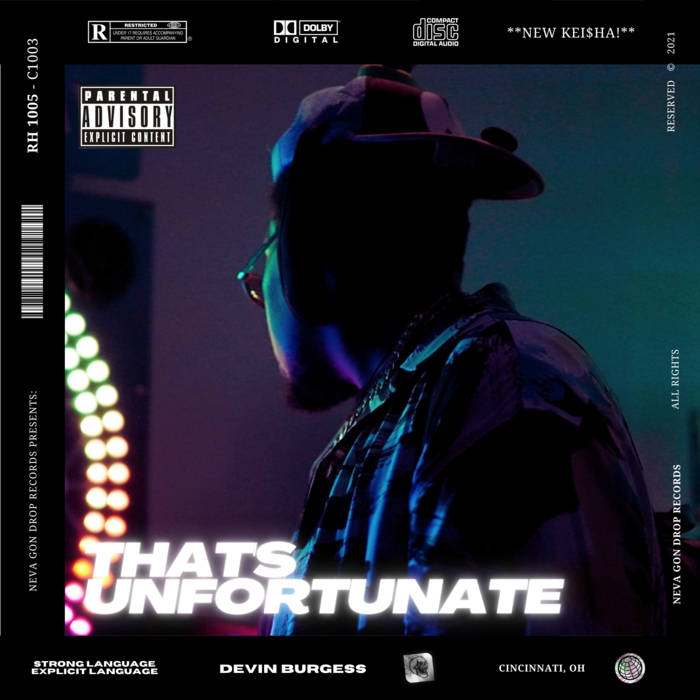 Previous: Cyesm - Beat Baker
Next: Marcel P. Black - Everything iLuv