Air Credits - Wasteland Radio New Archives [Grey/429]
Written by Chi Chi Thalken on June 28, 2019
Air Credits is the Chicago duo of emcee Show You Suck and producer Hood Internet, who released their debut album, Broadcasted, back in 2016. Just last year, we saw them team up with emcee Sims and producer ICE-TEP to release the ambitious album, Arteria Verite. While other bigger projects are surely in the works, Air Credits gets back to its series of EPs, Wasteland Radio Archives, with the latest volume, [Grey/429].
If you're not familiar with the Wasteland Radio Archives, basically this is a series of EPs, with this being the third volume, where you're asked to imagine a not-too-distant future, where physical records have disintegrated and the cloud is a relic, and citizens are being called upon to restore as much music as they can. What this means in practice is that it takes a little bit of commitment from their listeners to digest what's happening with each EP, but there is some rich storytelling and complex and challenging production to reward those who do take the leap. It's a little noisy and harsh at times, with moments of calm seeping through, except you never know when the music is about to hit the gas again, so you can never really relax. To help round out this eerie and disjointed soundscape, they call in Joe Carsello on synth, Fyodor Sakhnovski on guitar and percussion, and Sen Morimoto on sax, each adding some unique flavor to pull your ears in opposite directions. Throughout all of this, Show You Suck is doing an excellent job of painting this alternative reality with his words, pushing a philosophical discussion about the permanence of art, and what it means to society as you move into the future.
Wasteland Radio Archives [Grey/429] might be short, but it is packed full of information and really pushes listeners out of their comfort zones, both sonically and lyrically. I'll be very curious to see how these EPs comes together when the series is finally finished.
| | |
| --- | --- |
| Title: | Air Credits - Wasteland Radio New Archives [Grey/429] |
| Label: | S/R |
| Year: | 2019 |
| Rating: | 8/10 |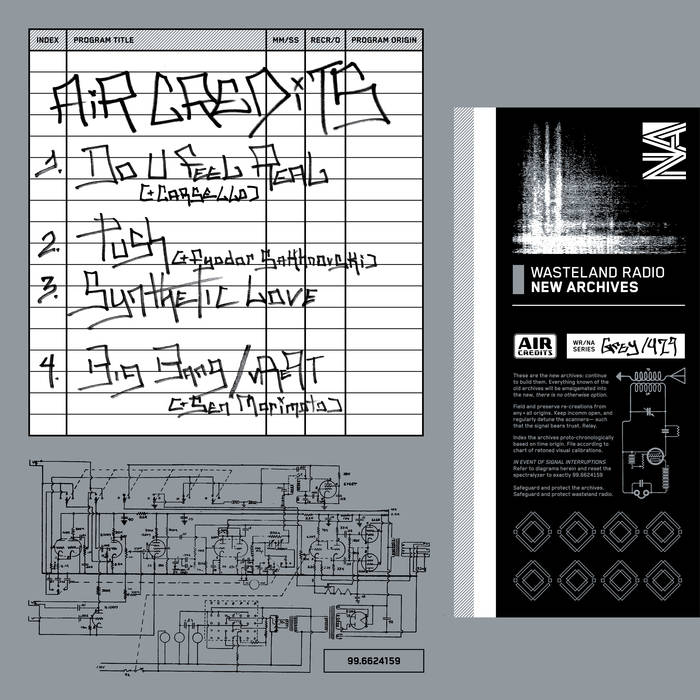 Previous: Trox - Late 80's Baby
Next: Yung Bae - Bae 5