Tensei - Constellate
Written by Chi Chi Thalken on January 24, 2019
Tensei is the Chicago production duo consisting of Midas Wells and Chris Kramer. They have been making music for several years, and have released a number of EPs, working with numerous Chicago musicians along the way, from soul to jazz to hip hop and everything in between. It's been a couple of years since we got a proper release out of Tensei, but that changes with the first of what promises to be multiple releases on Tokyo Dawn, Constellate.
For Constellate, Tensei doesn't overthink things – they just do what they do best. They lay down a great mix of jazz, soul, and hip hop, mixing analog and digital instruments, and they bring in a ton of talent from the Windy City and beyond. Over the course of seven songs, we get contributions from A. Billi Free, Liv Warfield, Sam Trump, Sulaiman, ADaD, Jimetta Rose, Yaw, Najite Olokun Prophecy, Kiara Lanier, and Kefele. You might recognize some or all of these names, or maybe none of them. It doesn't really matter, because the beauty of this EP is that each one of these artists get their moment to shine, whether it be Sam Trump both on vocals and trumpet on "Amazing,"" or the great push and pull of Jimetta Rose and ADaD sharing the mic on "Baby." Whoever you might be familiar with, they make a great contribution to the EP, and whoever you don't know you'll want to look up and get to know better. Underlying all this is the steady hand of Tensei themselves, who not only put everyone in a position to succeed, but also make everything sound coherent and connect each track to the next. That's no easy feat with these many artists contributing, but these two just understand on a deep level not just who they are, but they understand what each is about and how they overlap with what Tensei is doing. So we get some soulful pop-friendly hip hop, some smooth jazz and R&B, some backpack hip hop, some Afropop, some house/R&B, and beyond, all in the course of just seven songs. Tensei find the through thread and bring all the pieces together in a way that few are capable of. On top of all this, they've managed to really celebrate Chicago and a lot of the different scenes within the city.
Constellate seems pretty straightforward on paper, but once you start to listen you realize just how deep this thing goes. Tensei have come back after a short period of quiet with their best work to date.
| | |
| --- | --- |
| Title: | Tensei - Constellate |
| Label: | Tokyo Dawn |
| Year: | 2019 |
| Rating: | 8/10 |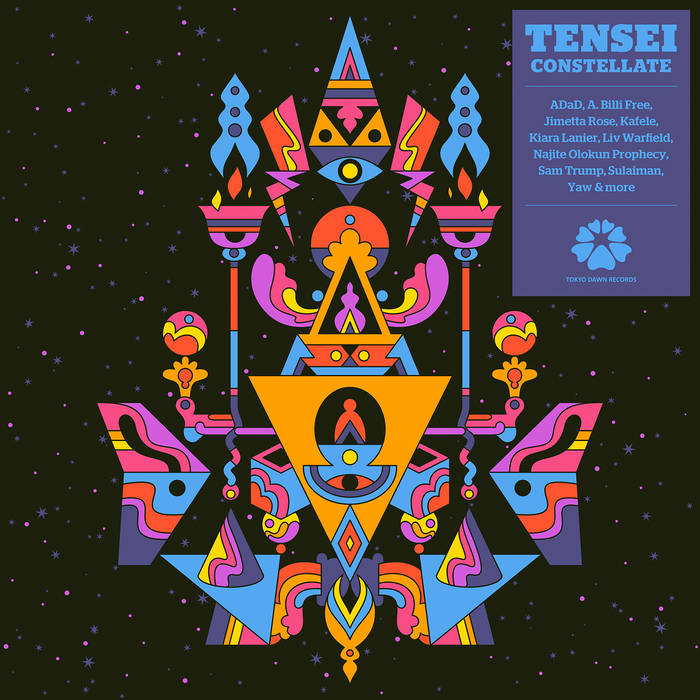 Previous: Sev Seveer - Shelfie Baps II
Next: Thorts/Kady Starling - Come What May/Waiting To Expire