Substantial - What I Been Saying (Vol. 1)
Written by Chi Chi Thalken on July 23, 2020
Substantial is an emcee/producer originally from Maryland that has been based in Alexandria, Virginia for a while now. He's also a veteran who has been at this thing for about two decades now. As you might imagine, over those twenty years, he's been involved in a lot of different projects over the years. So while we're still under quarantine, Substantial has decided that now is a good time to back through his catalogue and highlight a few of those projects with a compilation called What I Been Saying (Vol. 1).
Taking a page from the '90s era of best of collections, Substantial includes two new songs on this collection, the opening title track, and the closing "A Requiem For All Black Lives," featuring Malcolm Jackson. Both songs are incredibly moving and hint at an excellent new album in the pipeline, Adulting. As for everything in between, you get a little bit of everything. There's his work with Bop Alloy, there are collaborations with Marcel P. Black and Joe D., there are instrumental tracks, and there are straight up solo tracks as well. As you listen to everything, you catch a few through lines throughout his career. One is that I love hearing that Baltimore/D.C. accent in hip hop – something about it works really well with the flow of lines and accenting certain points. And Substantial certainly has an excellent flow and great presence on the mic as he delivers his words. This brings us to most important point, which is that this compilation really emphasizes how Substantial has been out here for twenty years trying to educate his listeners about issues like systemic racism, while still delivering banger after banger. There's a lot to like and even if you're already a fan, there probably at least a couple of tracks on here that you might have missed. My personal favorite discovery was the Marcel P. Black track, "Where I Stay," featuring Substantial. While the two have a lot in common with subject matter and their attempts to educate their listeners through hip hop, stylistically, they come with two very different approaches (Black is from Baton Rouge), which makes for a compelling listen.
Substantial has been doing this for a minute, so it's nice to get a compilation like What I Been Saying (Vol. 1) to take a breath and maybe catch up on a few projects that you might have missed along the way. Even if you are caught up, you still get two excellent new songs that will give you a taste of new projects to come. Everyone wins.
| | |
| --- | --- |
| Title: | Substantial - What I Been Saying (Vol. 1) |
| Label: | S/R |
| Year: | 2020 |
| Rating: | 8/10 |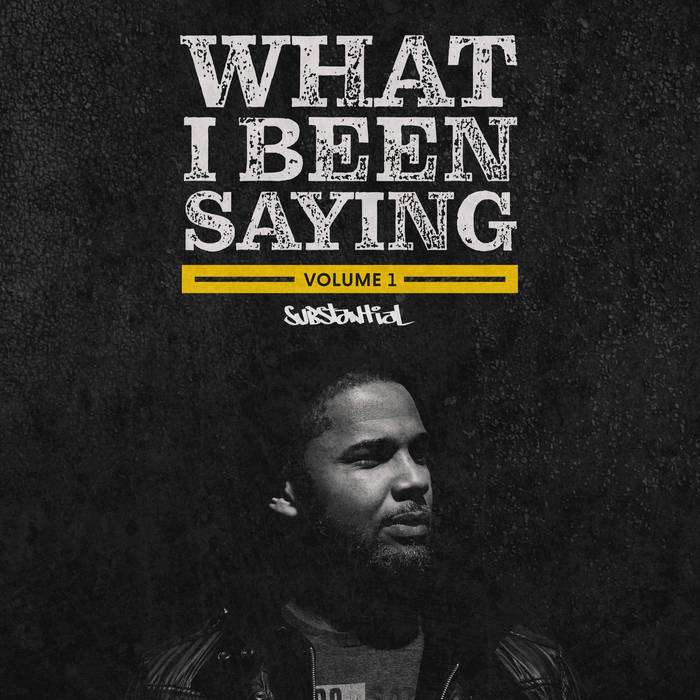 Previous: Amerigo Gazaway - Endless Summer Nights
Next: NNAMDÏ - Krazy Karl