Nate Patrin - Bring That Beat Back: How Sampling Built Hip-Hop
Written by Chi Chi Thalken on May 26, 2020
Nate Patrin is a music critic that has written in publications such as Spin, Bandcamp Daily, and his hometown Twin Cities' alt-weekly City Pages. For his first book, he has taken a look at how a specific element of hip hop, the sample, has developed and shaped the music and culture over the course of its history. He explores all of this in Bring That Beat Back: How Sampling Built Hip-Hop.
To structure the book, Patrin first divides the books up into four case studies to further examine different eras and styles and philosophies of sampling. The people he's chosen to focus on are Grandmaster Flash, Prince Paul, Dr. Dre, and Madlib. These aren't the only producers discussed in the book, as with each section Patrin discusses different artists that these four worked with, some of their contemporaries, and how they are situated in the grander scheme of hip hop history. The Grandmaster Flash section might feel the most like eating your vegetables, if only because people love to wax poetic about the origins of hip hop in the Bronx and the big three of Afrika Bambaataa, Kool Herc, and Grandmaster Flash, but if you pay a little bit closer attention, Patrin is trying to get you to focus on how the style evolved from live looping at shows and parties to live studio bands, to actually using samples and loops as the production on records. It's a foundational and important step in the history that a lot of people breeze over, but it sets the stage for all the creativity to come.
The Prince Paul section is where the book opens up and we get to begin discussing issues like the meaning behind the source material, what is considered "acceptable" source material, and the legal ramifications of lawsuits in the late '80s and early '90s (Side note: Fuck The Turtles, for real). It's in this section that we also get to bring in discussion of contemporaries like The Dust Brothers, Pete Rock, and DJ Premier, and how they are all navigating this era of new technology, lawsuits, and carefully selecting source material to define their sounds.
In the Dr. Dre section, the discussion veers more towards how one producer defined their sound with a few key sample sources (Parliament Funkadelic, Ohio Players) and stylistic choices (bass, Moog), and how that helped build one of hip hop's biggest moguls. The Madlib section was the most exciting for this reader, as I will imagine it will be most Scratched Vinyl readers, as he doesn't normally get this kind of coverage in a book. In this section, we get to discuss not only Madlib, but also his friend, colleague, and collaborator, J Dilla, as the two worked through an era in the late '90s through the mid '00s by weaving between the underground and mainstream while developing reputations as mad scientists and true artists with the ways they were able to repurpose samples and make them their own.
The whole book is a must-read for any hip hop fan and is much appreciated since so much attention gets paid to those who rock the mic, but not nearly as often to those who build the beats. Patrin clearly understands the artform of sampling and hip hop production, and he does a great job of not just discussing these different artists and eras in the four sections, but also showing how the sections overlap and inform each other and push the culture forward. It is also appreciated that Patrin uses the conclusion of the book to dispel the rumor that the sample is dead, using data to demonstrate that while you might anecdotally think that everyone is using trap beats and synths to avoid lawsuits and paying royalties, that we had major top 40 hits such as Lil Nas X's "Old Town Road," J. Cole's "ATM," Kanye's "Ghost Town," and Drake's "Nice For What," all built off of samples, along with plethora of independent artists also keeping the sample alive.
The book is engaging and informative, and it gives you a lot to think about in terms of hip hop production and how the artform has evolved over the years. Most importantly, Patrin is able to write about all of this in a manner that is easy to access, without dumbing things down or glossing over the more technical side of things.
| | |
| --- | --- |
| Title: | Nate Patrin - Bring That Beat Back: How Sampling Built Hip-Hop |
| Label: | University of Minnesota Press |
| Year: | 2020 |
| Rating: | 9/10 |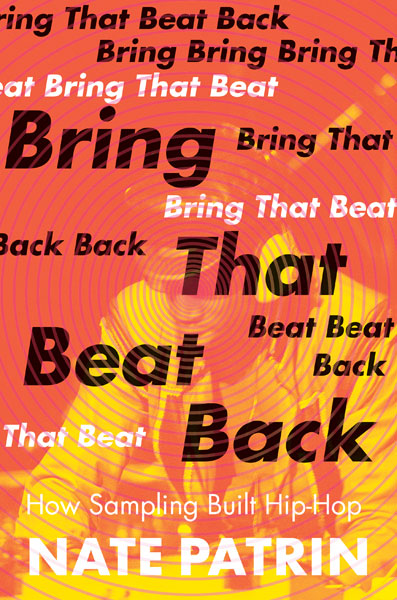 Previous: B. Squid - Movie Night
Next: Nate Patrin - Interview - 5-4-20