Liquid Saloon - Took a Second
Written by Chi Chi Thalken on June 23, 2022
Liquid Saloon is a group from Tel Aviv, featuring Amir Bresler, Sefi Zisling and Nomok. The three musicians have incredible jazz chops and have played in groups like Apifera, Funk'N'Stein, and L.B.T. They came together to release their debut self-titled album in 2019. After working through an intense live touring experience that saw collaborators come and go, and then the pandemic, the core trio have now reemerged with a brand new album, Took a Second.
On Took a Second, Liquid Saloon are doing what you would hope any group would do with their sophomore album – expanding upon their sound. At its core, this is still a jazz album, but they continue to branch outward, bringing in influences from highlife to Afrobeat to New Orleans swamp funk to hip hop to disco to the gritty soul of the East Coast in the '60s to the smoother jazz of the West Coast in the '60s and '70s. It's all on the table, but what everything boils down to is the groove. Fortunately, this core of Bresler, Zisling, and Nomok have incredible chemistry together, and it always feels like they start with the main groove and build outward from there. The usual division of labor finds Bresler on drums and guitar, Zisling on trumpet, and Nomok on keyboards, but they bring in a few friends along the way to help spice up the album and take things in different directions. We get appearances from Elyasaf Bashari on flute, bass, and oud, Rejoicer on keys, Roi Avivi on guitar, Gilad Hekselman on guitar, and Tal Kohavi on drums and percussion. The key here is that these are musicians that Liquid Saloon know and have working relationships with, so that each person is brought in to add their distinct flavor and the tracks they are used on are done with purpose. Perhaps the most telling aspect of this album is that while it closes on a ten minute song, "Sleepy Cricket," you don't really notice the length until afterward, because you're so invested in the groove and all of the subtle developments that are happening within the song and all of the incredible musicianship and chemistry of the group.
Took a Second can be read quite literally as a title, but in taking their time and making sure everything was right before making their sophomore album, Liquid Saloon was really able to take a big step forward as a group. This album is musically adventurous, and it features incredible players at the top of their game that play very well together, but most importantly, it's funky as hell.
| | |
| --- | --- |
| Title: | Liquid Saloon - Took a Second |
| Label: | Raw Tapes |
| Year: | 2022 |
| Rating: | 8/10 |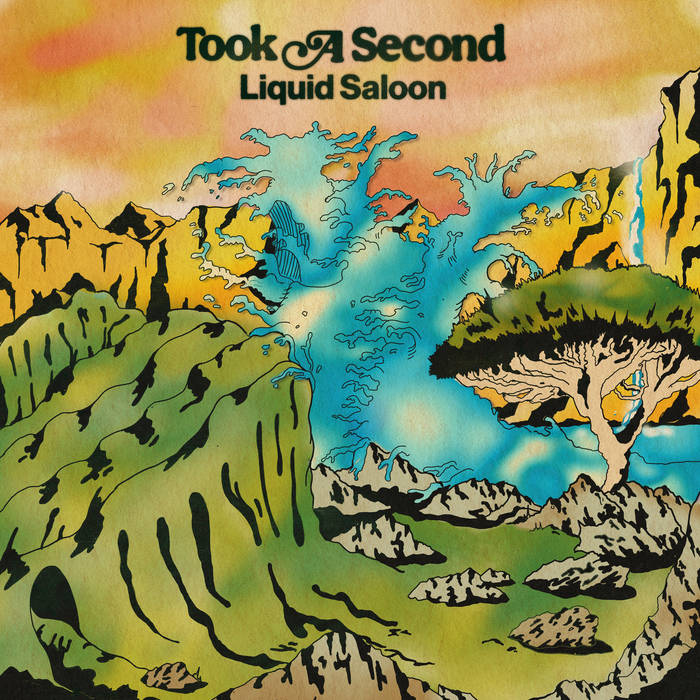 Previous: Kaidi Tatham - Galaxy
Next: Elaquent - Long Drives to Nowhere