Isatta Sheriff & Koralle - Eat the Kiwi Skin
Written by Chi Chi Thalken on September 26, 2022
Isatta Sheriff is an emcee from London who actually released her first single back in 2006, but her career didn't really take off until the release of her self-titled album in 2016. Most recently, we got an EP last year called A Kind of Biography. Now she has teamed up with producer Koralle to release a new EP, Eat the Kiwi Skin.
Koralle is a producer from Bologna who has been releasing music since 2019, mostly on Melting Pot. By 2020, he was already starting to make the connection to the UK, releasing some singles with emcee Turt and Isatta Sheriff. The chemistry between Sheriff and Koralle was apparent from the song "Laid Back," and fortunately for all of us, they have expanded upon that with Eat the Kiwi Skin. Koralle is excellent at crafting some smooth and soulful laid back boom bap beats, which is perfect, because Isatta Sheriff really excels as an emcee when she can just get in the pocket of a beat and focus on her storytelling. Over the course of these six tracks, Sheriff is really letting you in as a listener as she talks about her family history as immigrants in the UK, the obstacles that have gotten in her way coming up as a Black woman in the hip hop industry, and her philosophies on life. As a result, it's the type of EP that works really well on headphones, when you can talk a walk and just really absorb all of the personal lyricism that Sheriff is laying down and get inside your own head as you relate to the music. We also get some beautiful contributions from guest artists like Lex Amor, Mercy's Cartel, Shumba Youth, and Awate, who help deliver some great hooks and more and give the EP that third heat that it needed to round everything out.
We had a little bit of an idea that Isatta Sheriff and Koralle had some chemistry together, but now that Eat the Kiwi Skin is here, we know that these two really work together and can make some really thoughtful and soulful hip hop that sticks with you. Hopefully, they'll keep working together, because this feels like we're just getting started.
| | |
| --- | --- |
| Title: | Isatta Sheriff & Koralle - Eat the Kiwi Skin |
| Label: | Meting Pot Music |
| Year: | 2022 |
| Rating: | 8/10 |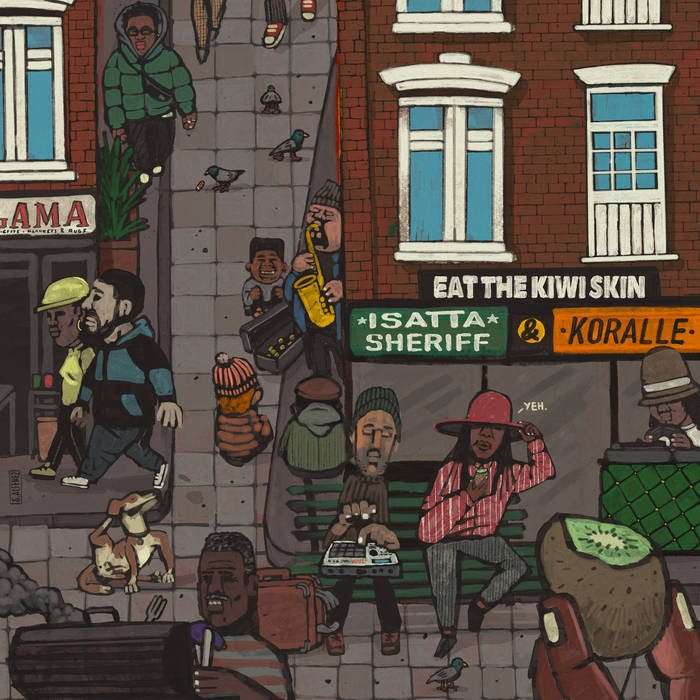 Previous: Emancipator & Lapa 11th Orbit
Next: John Klaess - Breaks in the Air: The Birth of Rap Radio in New York City