Clover Hope - The Motherlode: 100+ Women Who Made Hip-Hop
Written by Chi Chi Thalken on March 24, 2021
Clover Hope is a writer and editor based in Brooklyn that has written for everyone from Vibe to ESPN The Magazine to The Village Voice. For her first book, she sought to give us an overview of all the women who have contributed to hip hop over the years with The Motherlode: 100 Women Who Made Hip-Hop.
There have been other attempts at putting together a history of women in hip hop, but Hope's book stands apart in a couple of ways. First, this isn't a straight up history book. Hope isn't writing any long form narratives in chronological order, weaving together all the women of different scenes and eras. Instead, Hope is giving us more of a fly-over approach. Things are more or less in chronological order, but it's more like Hope is chunking hip hop history. She's picking a few key artists and moments to focus on and do a semi-deep dive, usually reserved for heavy hitters like Roxanne Shante or Salt-N-Pepa or Lauryn Hill, but other times she's opted to quickly acknowledge a group of rappers, such as a page devoted to emcees who chose names that start with "Lady," such as Lady Sovereign or Lady Leshurr. Hope is also picking moments to give us factoids, shoutouts, or timelines, and she's also picked out a few moments to go deep on trends or pivotal moments, such as "The Squat," or a quick blurb from Dave Myers about his video work with Missy Elliott. In constructing her book this way, Hope will leave you wanting if your favorite artist only gets a shoutout, or worse, doesn't get mentioned. Of course, the flip side is that there are probably more than a handful of artists in this book that you don't know or haven't spent the time with, so you'll still have plenty of fun homework. Besides, the point of this book is to show you just how many women have contributed to hip hop over the years and point out a few general recurring themes, namely the way that women get pitted against each other and how many women get signed to major labels only to sit on the shelf for years and then don't get marketed properly when they finally do release something. On top of all this, we get a really transformative X-factor with this book in the form of illustrator Rachelle Baker. Baker does an amazing job of finding the balance between establishing her own artistic vision and establishing a visual language for the book while also respecting all the amazing women covered in the book.
The Motherlode is not the end-all-be-all book about women in hip hop. It is, however, a really great starting point and quick reference guide that every hip hop fan should have. The really crazy thing about this book is that she easily could have expanded this to include another 100+ women, so who knows, maybe one day we'll get a second volume. In the meantime, let's appreciate all the work that Hope and Baker put into this book.
| | |
| --- | --- |
| Title: | Clover Hope - The Motherlode: 100+ Women Who Made Hip-Hop |
| Label: | Abrams |
| Year: | 2021 |
| Rating: | 9/10 |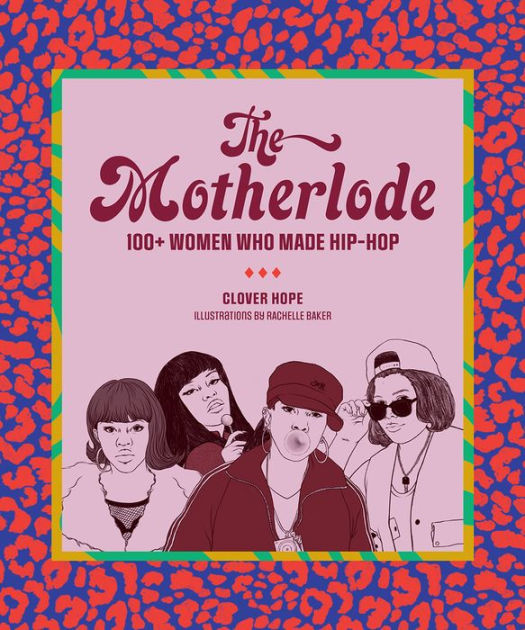 Previous: Scuare - Phenomenal
Next: Moderator - Midnight Madness