Damu the Fudgemunk, Archie Shepp & Raw Poetic - Ocean Bridges
Written by Chi Chi Thalken on May 22, 2020
Damu the Fudgemunk is a producer from the D.C. area that has been working both as a solo artist, but also collaborating with the likes of Flex Mathews, Insight, Blue, and Raw Poetic. For his latest project, he had the chance to work not only with his friend and frequent collaborator, Raw Poetic, but also a jazz legend in saxophonist Archie Shepp. The unique recording sessions led to a full-length album, Ocean Bridges.
This is Damu's first foray into making a "jazz" album, but you wouldn't know it from listening to this album. While jazz and hip hop have crossed paths numerous times over the years, only a handful of albums are in the ballpark of Ocean Bridges. That's because instead of the approach of having jazz musicians sit in to riff on hip hop tracks, or using hip hop beats to spice up jazz compositions, Ocean Bridges is truly a jazz album with hip hop artists sitting in and adding their flavor. The album features Archie Shepp on saxophone and Wurlitzer, Damu on drums, vibraphones, scratching, and production, Raw Poetic on vocals, and then they are joined by Aaron Gause on Wurlitzer and synthesizer, Luke Stewart on bass, Jamal Moore on sax and percussion, and Bashi Rose on drums and percussion. The whole session was recorded live and improvised, with minimal reworking afterwards, with Raw Poetic's vocals being the main element added after the fact. The result is an album that not only celebrates the intersection of jazz and hip hop, but celebrates the live collaborative nature of music. It's incredibly exciting to listen to as you hear someone like Shepp, who could easily rest on his laurels if he wanted to, give back and forth with all of these other musicians with gusto. Sometimes he's leading the way, but he also knows when to sit back in the cut and let someone else put their musical ideas forward and take the songs in new directions. In a lot of different scenarios, bringing in an emcee or vocalist to a project like this could feel more like a distraction, but Raw Poetic is incredibly musical and abstract in his approach to the mic, and he clearly understands that this isn't just about himself, it's about a bigger project and sound that they are creating, so he only jumps in at select moments when he really has something to say, which helps make those moments all the more special. It's an album that technically has separate tracks that you could listen to one at a time, but the real magic comes in pressing play and letting go from the world for a while and just letting these masterful musicians explore their space and have these incredibly interesting musical conversations. It ends up being in the ballpark of early '70s Miles Davis or Herbie Hancock, mixed with the no rules approach of hip hop artists such as Antipop Consortium, but in a style that is completely unique to this session.
Ocean Bridges isn't your standard jazz meets hip hop album. These could have easily been any number of things, such as a producer-led hip hop album with very specific sections for sax solos from Shepp or verses from Raw Poetic. Instead, we get a truly collaborative album capturing the exciting live energy of different generations and schools of approach to music creating a unique sound that was built when everyone put their egos aside and just decided to create together.
| | |
| --- | --- |
| Title: | Damu the Fudgemunk, Archie Shepp & Raw Poetic - Ocean Bridges |
| Label: | Redefinition Records |
| Year: | 2020 |
| Rating: | 9/10 |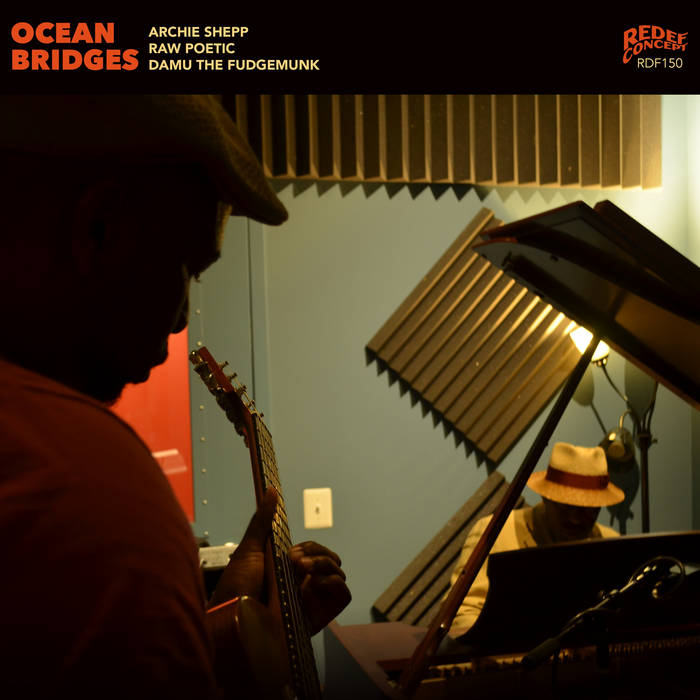 Previous: Lowlight Plains - LossLess (Chpt.1) & (Chpt. 2)
Next: B. Squid - Movie Night